Duration
12 days 11 nights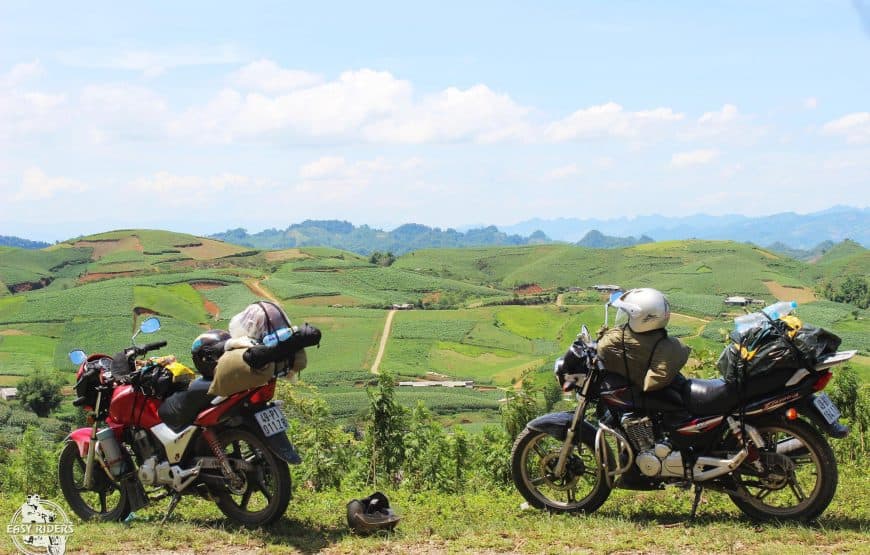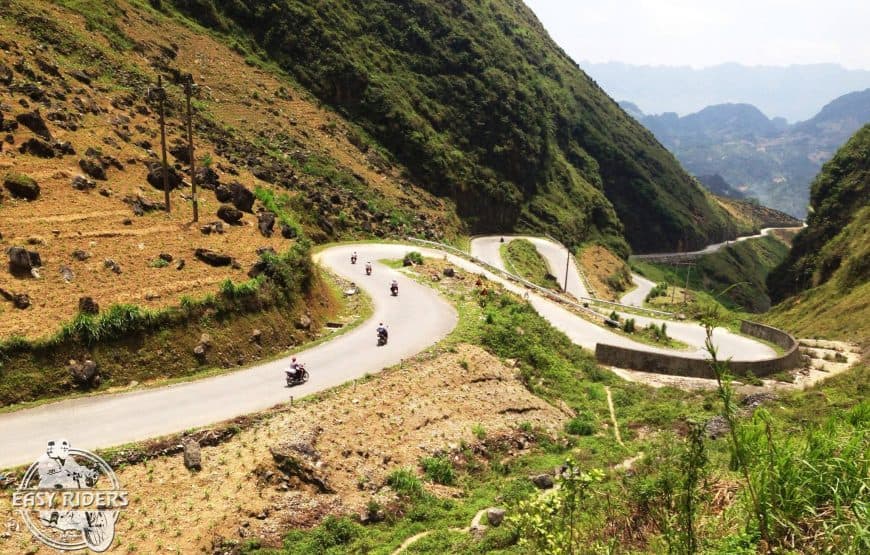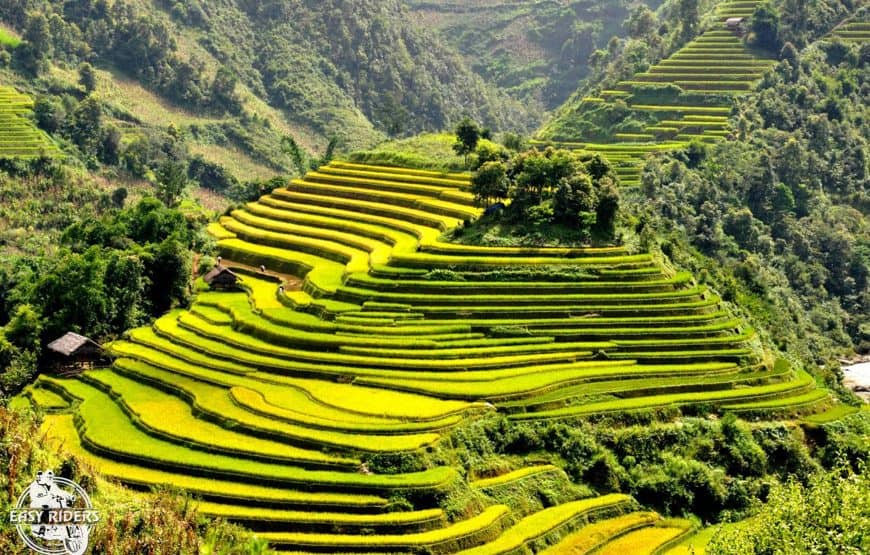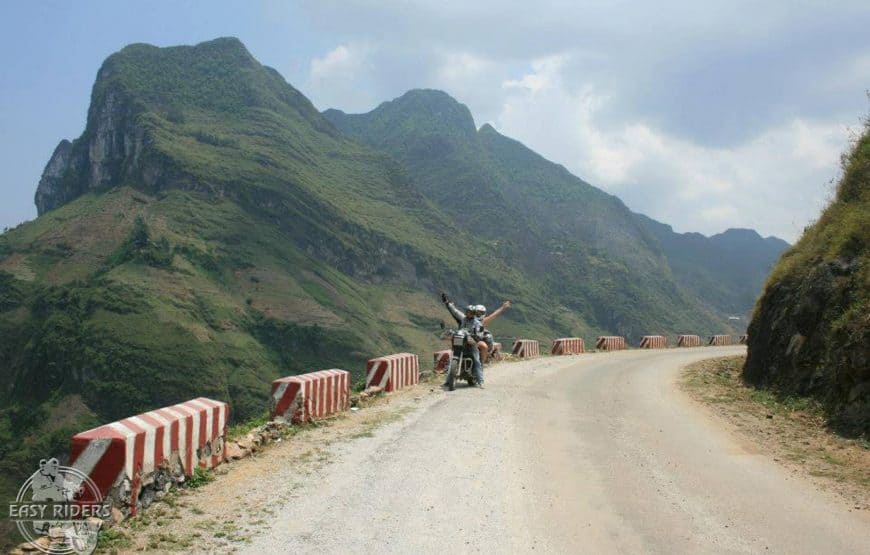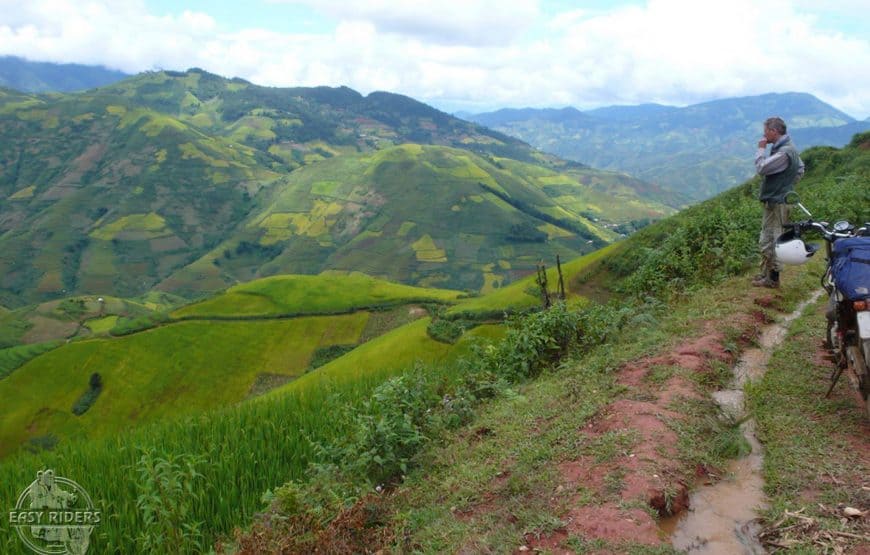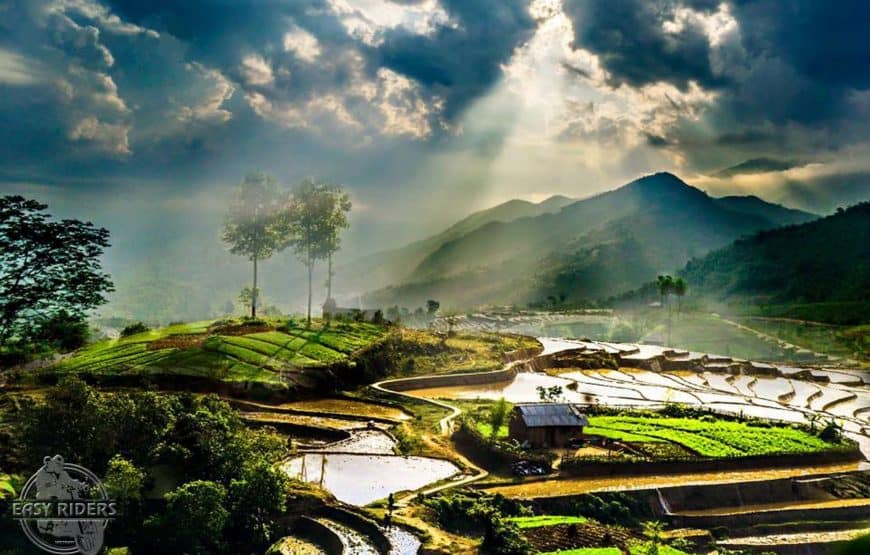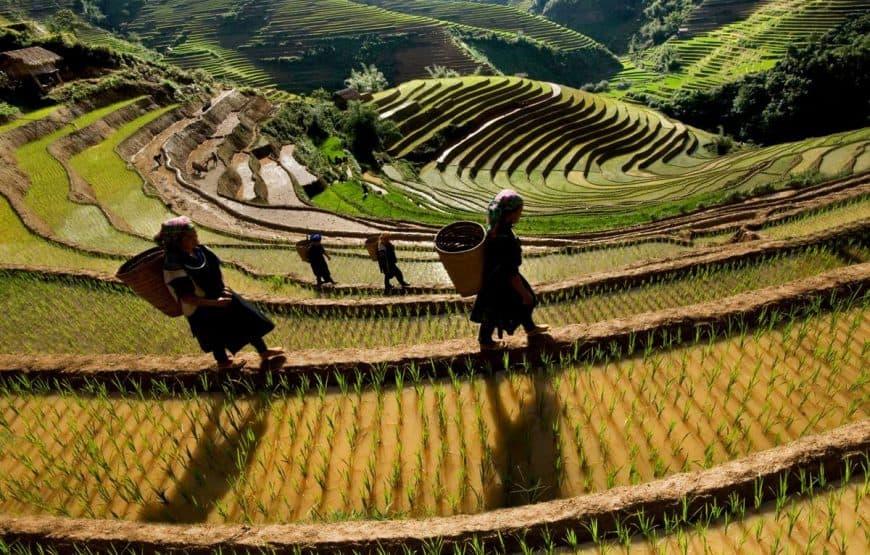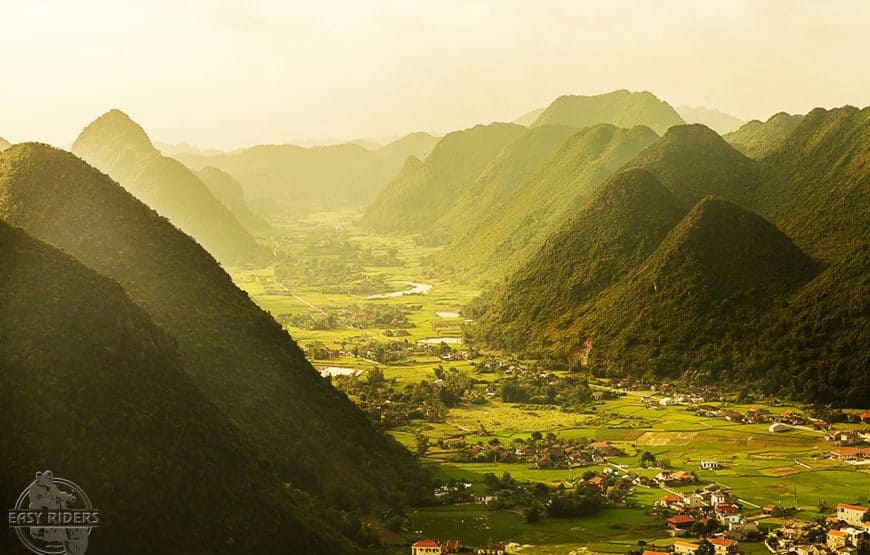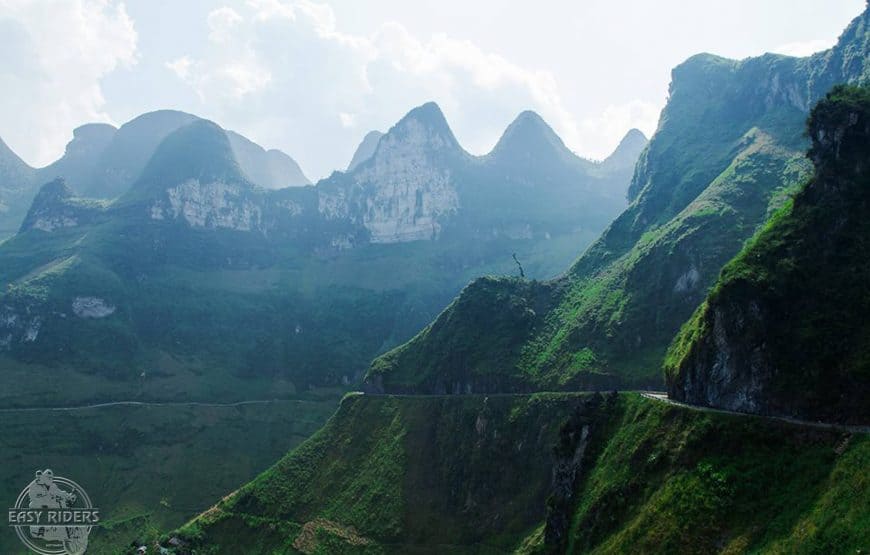 Overview
Easy Rider North Vietnam Tour will reveal to you some of the world's best motorcycle roads and sceneries. You will experience the best of all the major mountain passes in a tour designed to bring out the best that the North of Vietnam has to offer.
This tour will take you over the breathtaking peaks of the O Qui Ho Pass, show you the sunsets above the Hoang Su Phi Mountain Range, and guide you through the Rock Plateau of Dong Van. This Easy Rider North Vietnam Tour rides on the most amazing roads of Ha Giang and the spectacular rice terraces of Mu Cang Chai. You will admire the magnificent sceneries, taste delicious local cuisines and enjoy the unexpected diversity of the rich cultures of the hill tribes visited.
With all of this combined, you will experience a fulfilling adventure in Vietnam that will last for a lifetime.
View More
HIGHLIGHTS
Mai Chau Stilt House
Spectacular Scenery
Winding Mountain Roads
Terraced Rice Paddy Fields
Karst Plateau Geopark
Rock Plateau of Dong Van
Ban Gioc Waterfall
Different Ethnic Minority Groups
Tea Plantation
Local Cuisine
Itinerary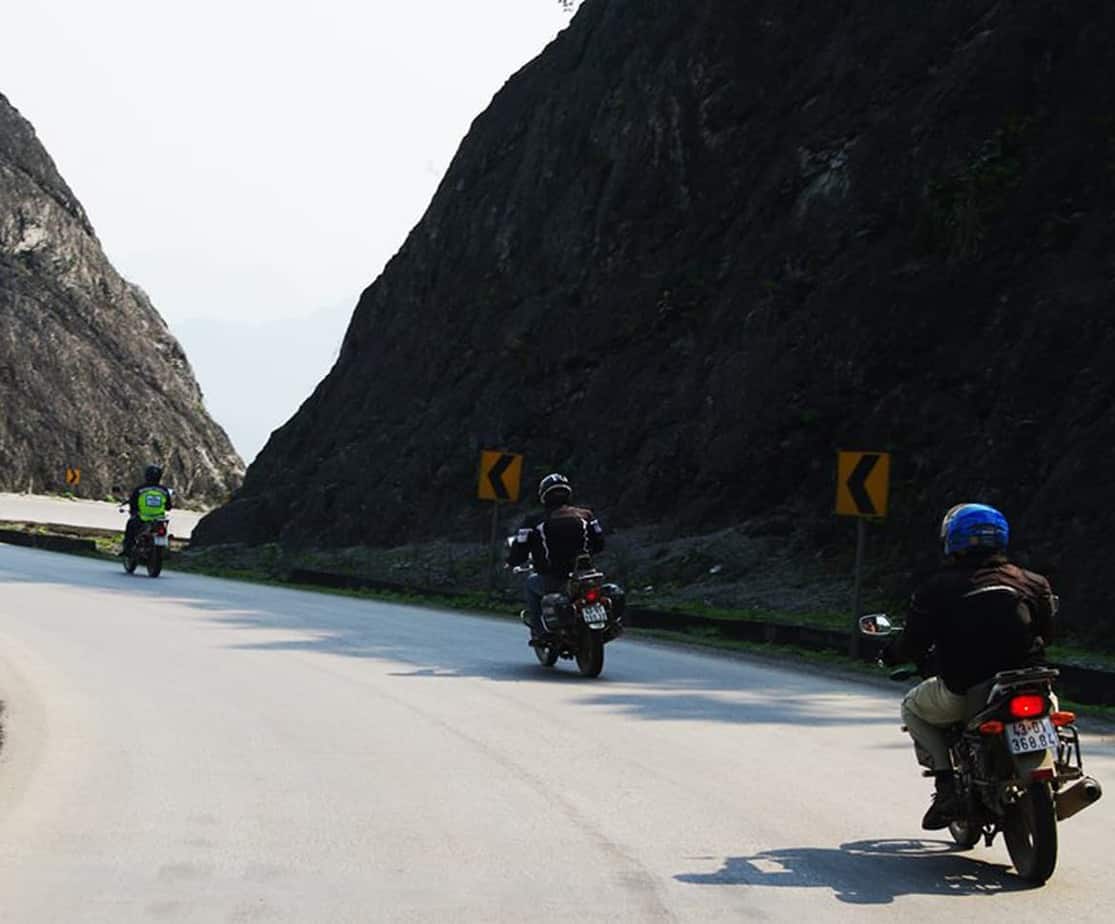 We meet and pick you up at the hotel where you stay in Ha Noi around 08:30 am. We start our exciting Easy Rider Northern Vietnam Tour by riding through the bustling Ha Noi, then our route leads us to the remote countryside, to Hoa Binh Hydroelectricity where you can take all in the stunning landscape of the countryside. We continue to wind our way through the magnificent Thung Khe mountain passes before descending to the picturesque mountain valley of Mai Chau, the homeland of Thai Ethnic Minority Group. We stay overnight in their traditional Stilt House and our delicious dinner will be served at their home with regional specialties.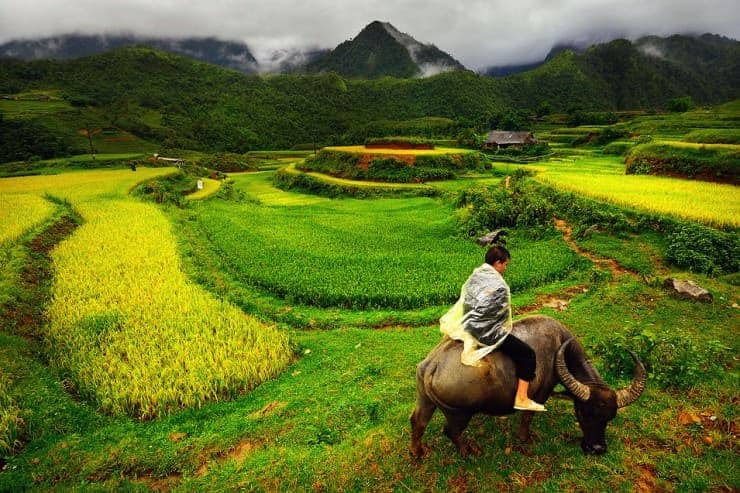 Waking up to the sounds of the rural village, enjoy breakfast and a cup of coffee as you watch the morning activities of the Thai Ethnic Minorities, heading to the fields. We resume back on our motorbikes and ride through country back roads, meandering the winding mountain passes while enjoying the stunning scenery of Moc Chau Plateau's tea plantations and fruit farms.

We take a ferry to cross Da River. It's also a great opportunity to witness the spectacular landscape of Vietnam countryside. We arrive in Phu Yen at about 05:00 pm, check in, and stay overnight.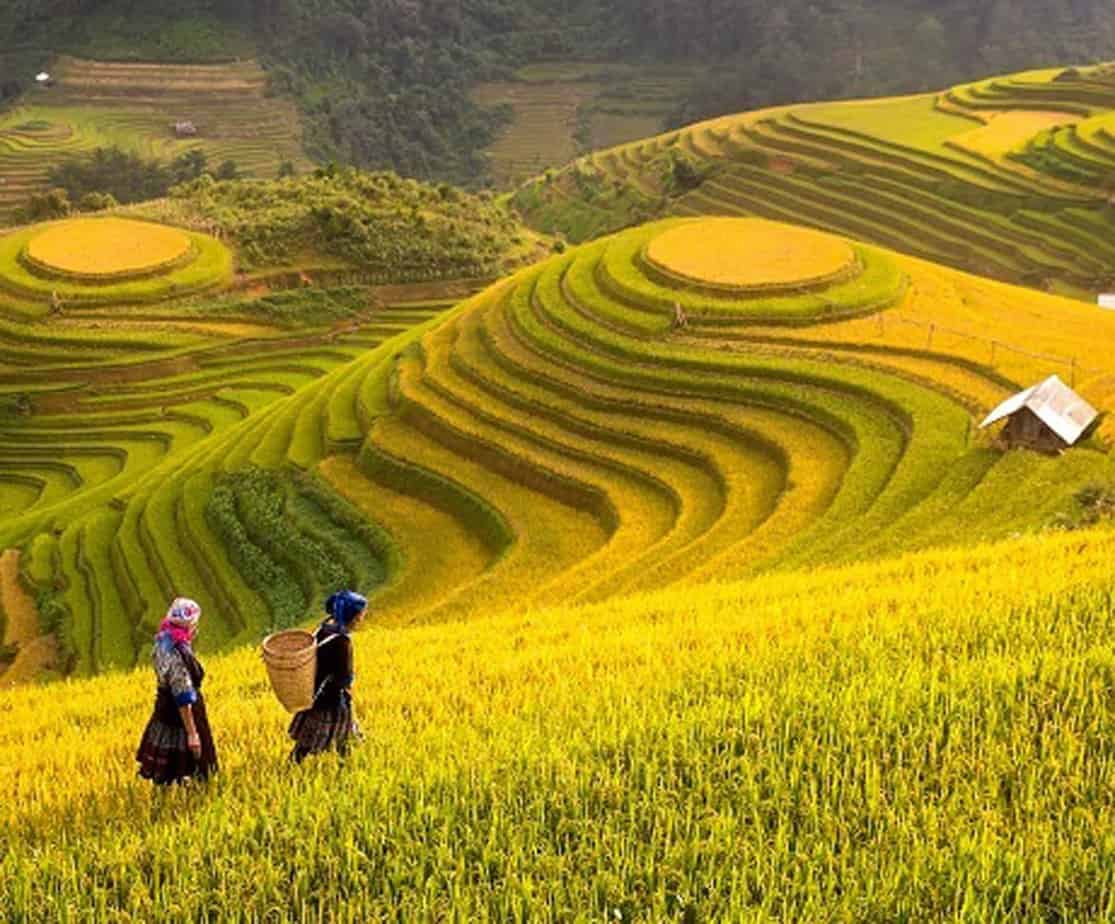 After saying goodbye to our host, we jump back on our motorbikes and enjoy one of the most exciting days riding Northern Vietnam. Today's ride is like a dream comes true for motorcycle lovers: Amazing terraced rice fields, colorful costumes of hill tribes, quiet laneways, and twisty mountain passes. Make sure you have your camera/phone handy as picturesque views are at every turn of our ride!

We reach Than Uyen at about 05:00 pm, check-in, and finish our enjoyable day of riding.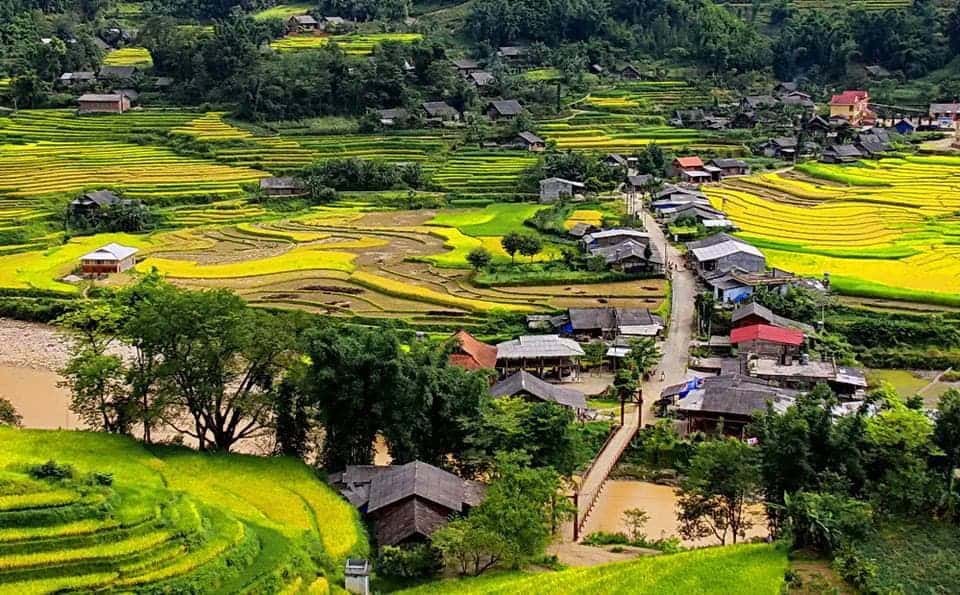 It's a short but no less interesting riding day. The ride today offers an awesome view of the lush green mountain of tea fields and the imposing scene of Fanxipan peak. Our lane route leads us to O Qui Ho, one of the longest and most impressive mountain passes in the North of Vietnam. The views from our stops to the valleys are amazing; you will have a great chance to get some of the best shots of the area which is about 2,000 meters above from sea level. After a break, we embark on a scenic drive along the back roads in the countryside to get to our final destination, Sapa. At noon time, you can explore this beautiful town on foot or stay at the hotel relaxing after a gorgeous day.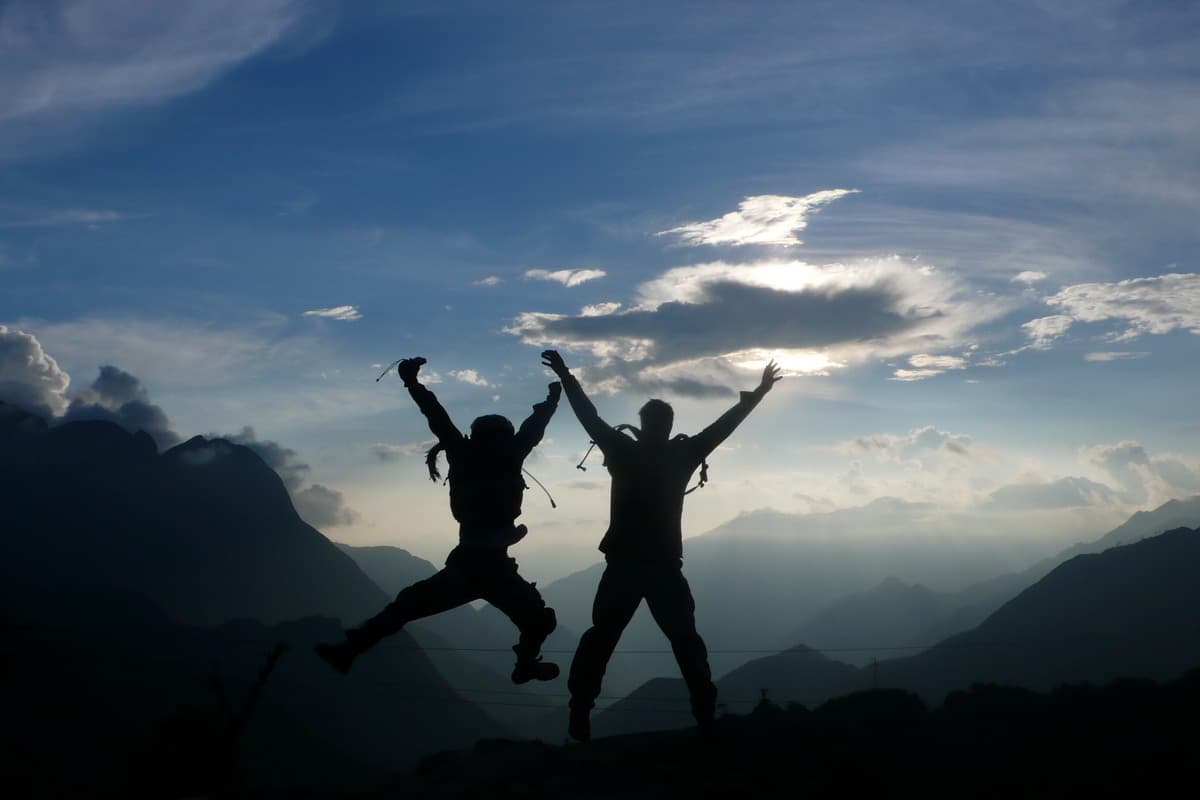 After breakfast at our hotel, we continue our motorbike ride to the other side of Hoang Lien Son Mountain Ranges. The feeling of riding through the breathtaking terraced paddy fields and isolated hill tribe villages is unbelievable. We get some time en route to relax, take in the spectacular landscape, experience the interesting daily life of the locals as well as enjoy their natural hospitality. We arrive at the hotel in Bac Ha before sunset, check in, and stay overnight.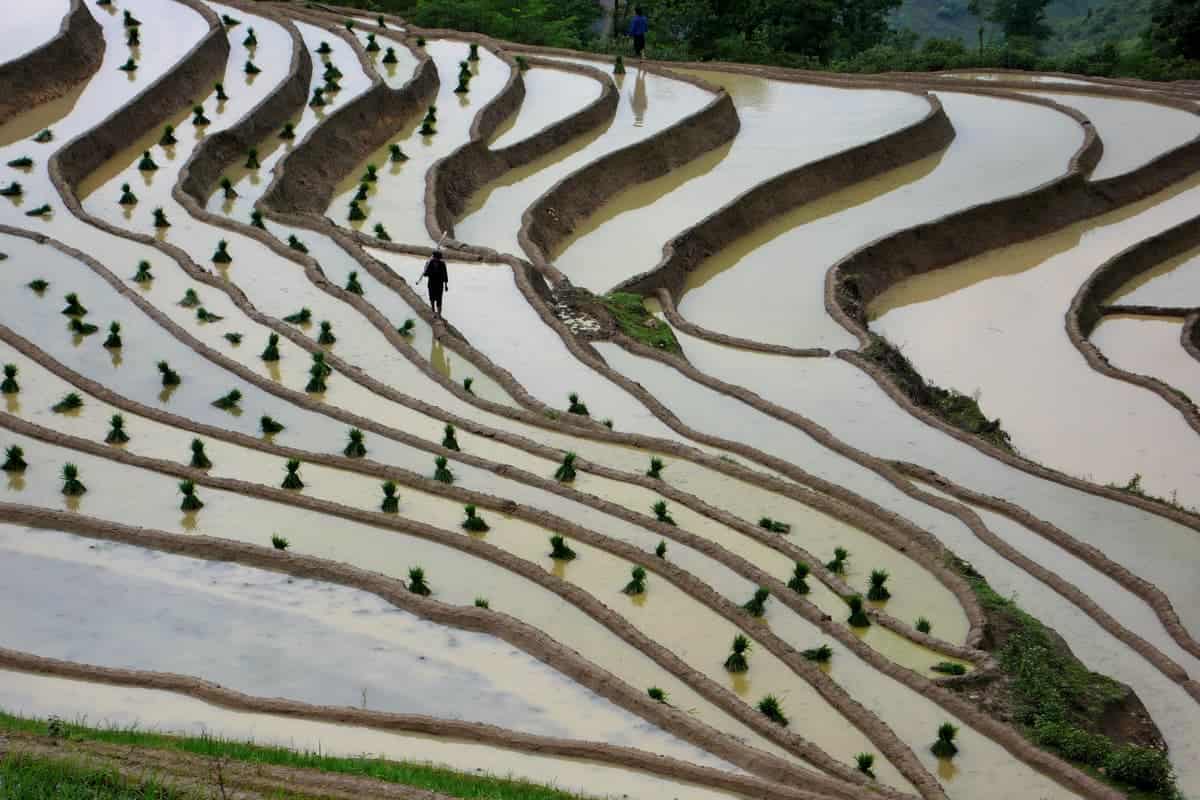 After saying goodbye to our friendly host, we leave for Xin Man, the route gives us a completely different taste of riding, we have more off-road rides and the landscape is absolutely different compared to our previous days. We'll arrive at Hoang Su Phi, a spectacular viewpoint that offers you breathtaking vistas of the rice terraces. Enjoy the fresh air and take in the panoramic view of the region. We continue our ride to Ha Giang, arriving at our hotel at about 05:00 pm, check-in and staying overnight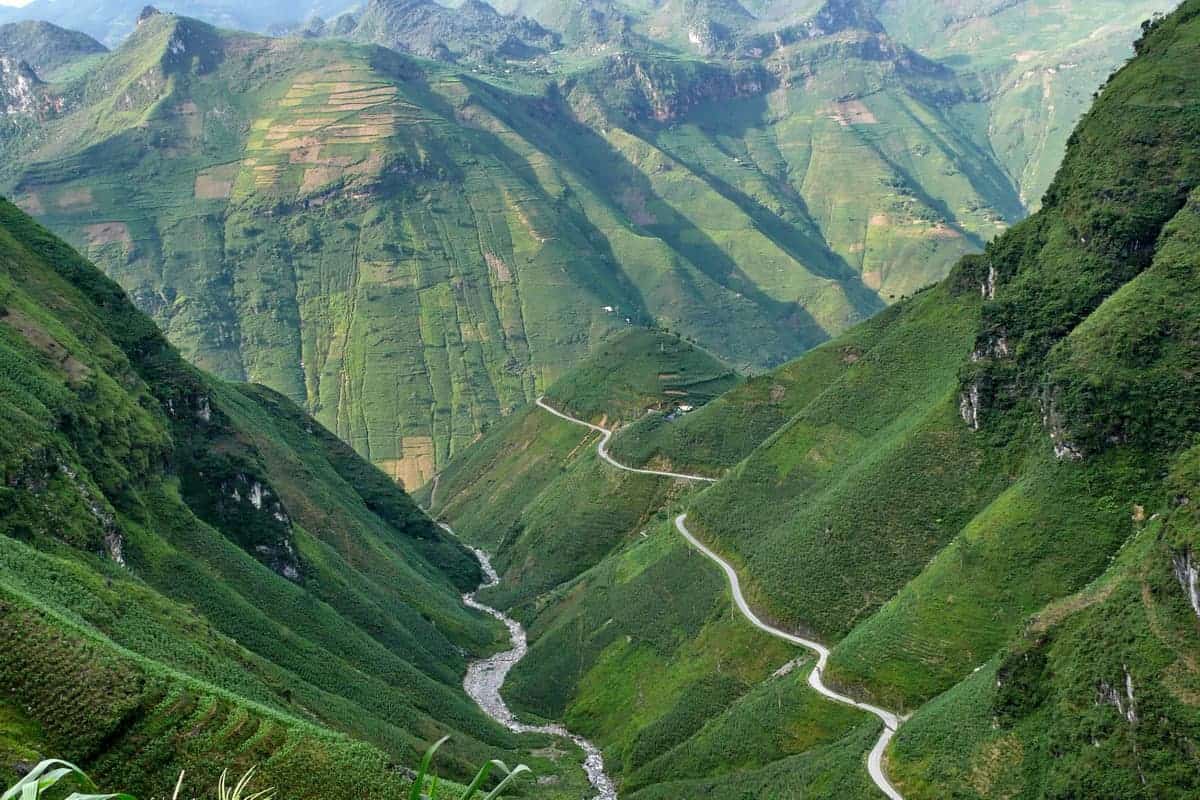 Wake up in the fresh air of the mountain town, enjoy breakfast, and take in the stunning view before saying goodbye to our host. We resume back onto our motorcycle for a scenic meandering to Karst Plateau Geopark. This park offers a unique blend between surprisingly beautiful natural landscapes, unique cultural experiences, and local heritage.

We continue our ride towards Dong Van, winding up to the famous Ma Pi Leng Pass (considered one of the most beautiful mountains passes in the world!?). When we reach the highest peak of the pass, words can't describe how amazing it is! It's just like a dream adventure for amateur and professional photographers alike!

We arrive at our hotel, in the middle of the Rock Plateau – the little town of Meo Vac, around 05:00 pm, check-in and stay overnight.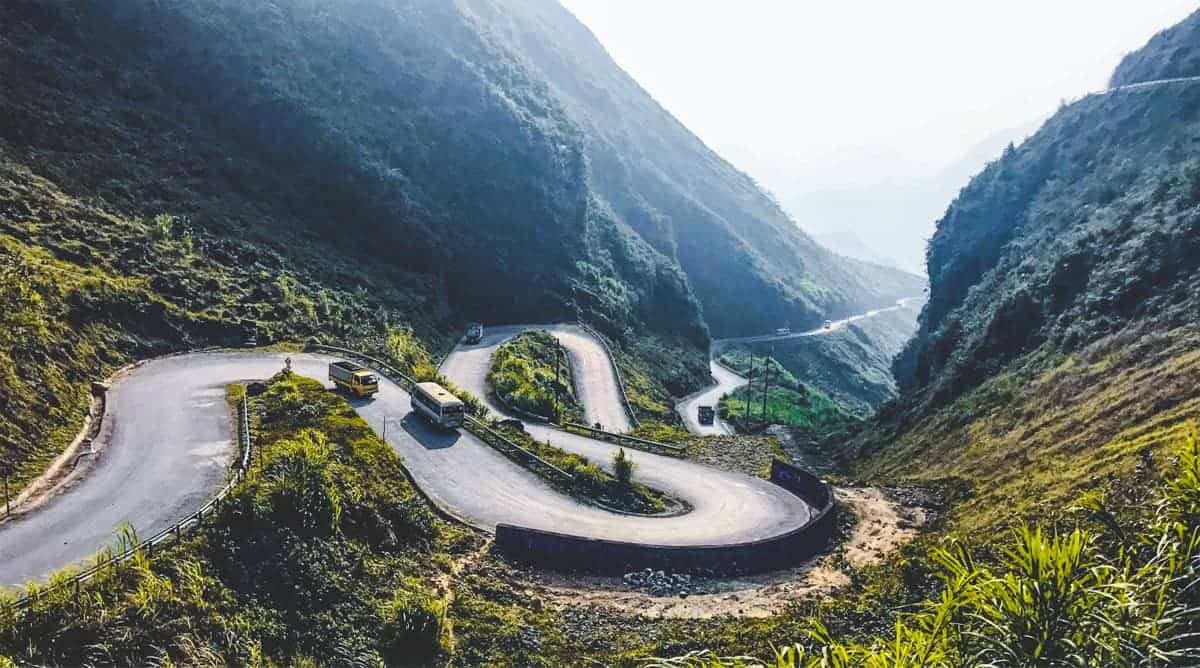 The feeling in the morning is just like: "Wow, 7 days on the motorcycle with Easy Riders Vietnam have gone quickly!" We continue our interesting day early as we have so many beautiful sights to see and explore today. We skirt along the narrow windy roads of the Rock Plateau of Dong Van - Ha Giang where we admire the spectacular mountain views, the rustic lifestyle of the ethnic minorities, and especially their unique traditional costumes... All of these will mark your motorbike trip with us an unforgettable experience.

The laneway leads our ride to Quang Uyen in the late afternoon. Check-in our hotel and stay overnight!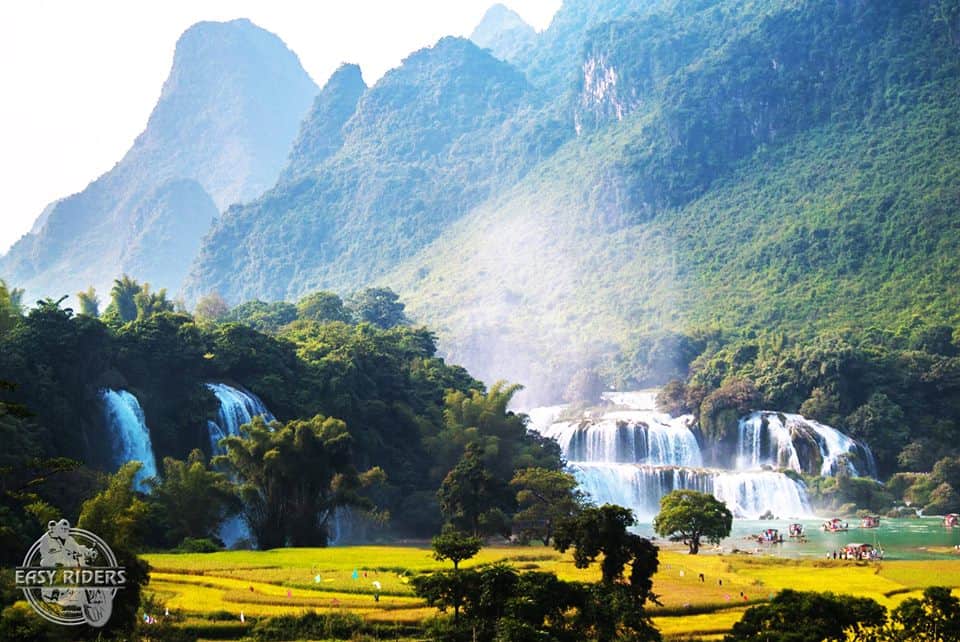 Greet the sun and celebrate our new day on this motorbike tour filled with exploration of the locals' cultures and quiet back roads traversing through rustic villages. We then head to Dam Thuy where you'll encounter the most beautiful waterfall in Vietnam, Ban Gioc Waterfall. We take in the magnificent sight or even enjoy our exhilarating swim at the foot of the waterfall.

We ride to Cao Bang afterward, arriving at the hotel before dark, check-in and staying overnight.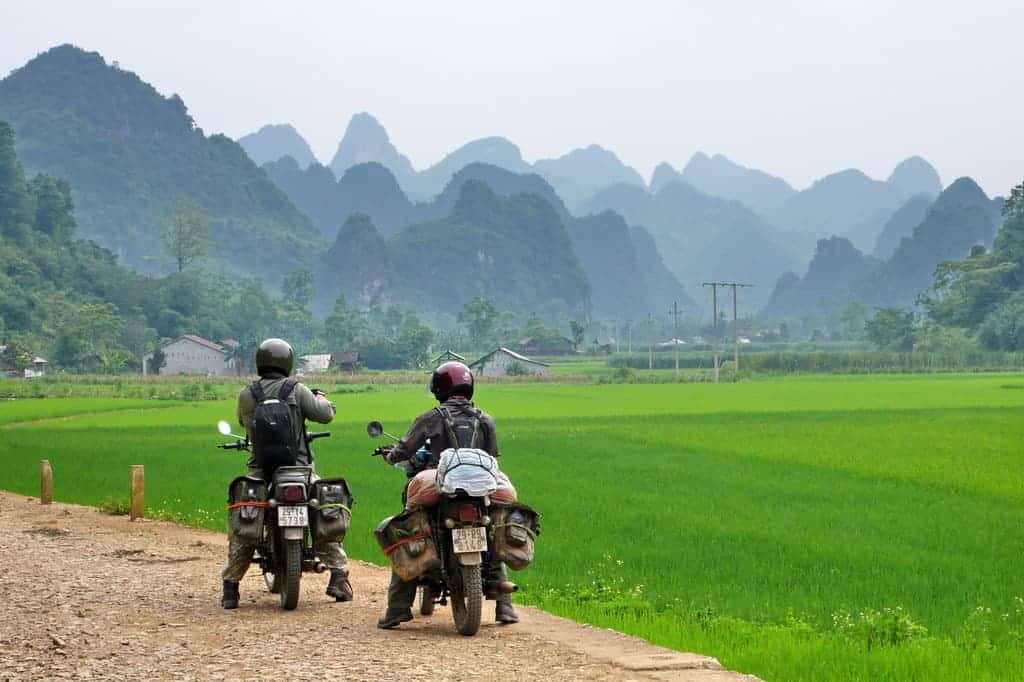 Today's motorbike journey is very relaxing. After breakfast, we wind our way along the peaceful country roads and mountain passes, and then to the largest natural lake in the North of Vietnam, Ba Be. This is a perfect place for a refreshing dip into the natural lake after a long ride. We explore this stunning lake by boat and the national park before checking in the Stilt House of Tay Hill Tribe family for our overnight stay.
Simply amazing is the only way to describe the day today! The drive leads us due south through the remote backcountry roads. We take a break and visit Dzao ethnic minority village where the locals are enthusiastically welcome. We then broaden our knowledge to visit historical sites, such as ATK Dinh Hoa to learn how the Vietnam Communist Party was founded. We do a homestay with a Dzao Hill Tribe's family at Thac Ba Lake for our night here.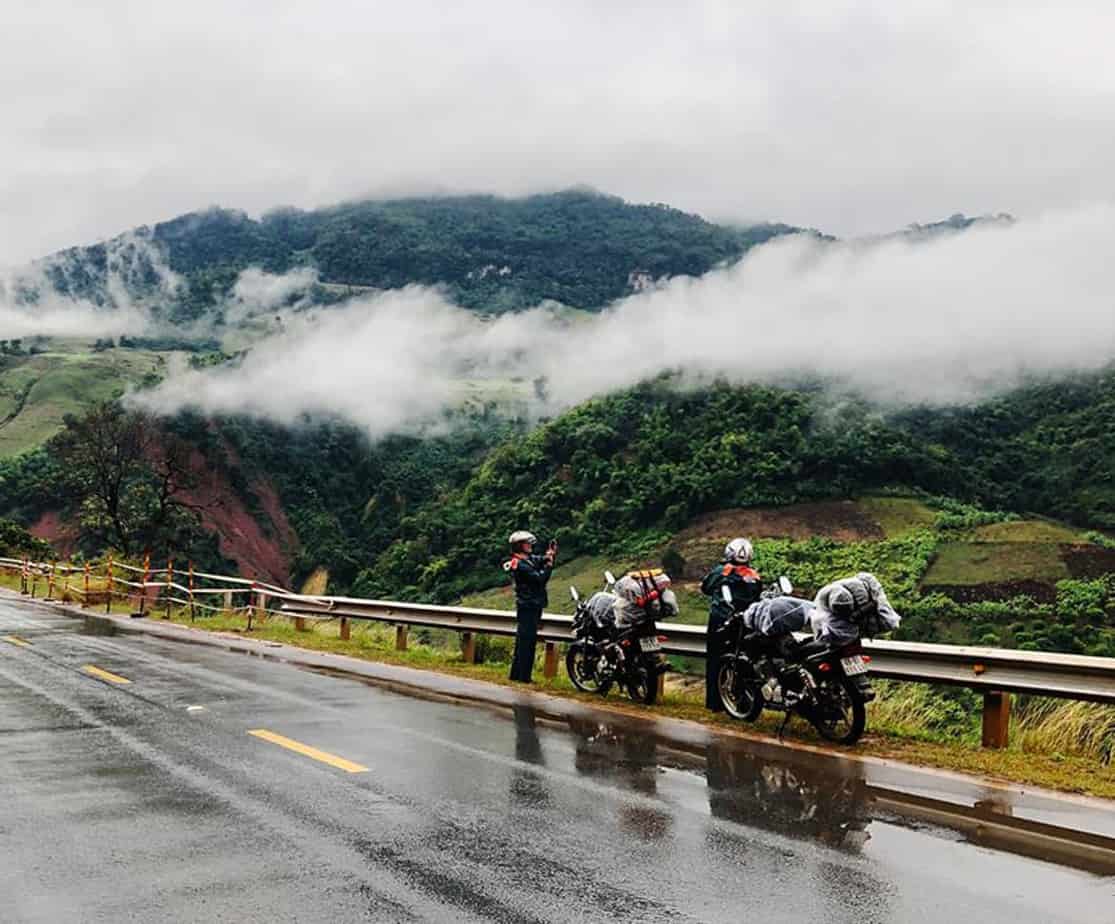 Rise and shine for the last day touring with Easy Riders Vietnam. We say goodbye to our lovely host and resume our motorbike ride along the splendid country back roads and peaceful dyke roads of the rivers.

We arrive in Ha Noi, at the hotel of your choice before rush hour and finish our exciting motorbike adventure!
Included/Excluded
Accommodation (11 nights)
English Speaking Tour Guide
Motorcycle
Helmet
Gas/Petrol
Entrance Fees
Waterproof Bags/ Raincoats
Food
Drinks
Personal Expenses
Tips
Tour's Location
Hanoi, Vietnam
Reviews
Showing 1 - 0 of 0 in total
You might also like
error:
Content is copyright protected!