With a coastline of more than 3260 km, it is not surprising that Vietnam has many beautiful beaches and many small coves with white sands and clear blue water that is very suitable for sunrise viewing, refueling. "vitamin sea" or watching the sunset in the late afternoon, there is nothing more wonderful. Let Easy Riders Vietnam introduce you to the list of the 12 most beautiful beaches in Vietnam to plan your upcoming trip.
Bai Sao Beach, Phu Quoc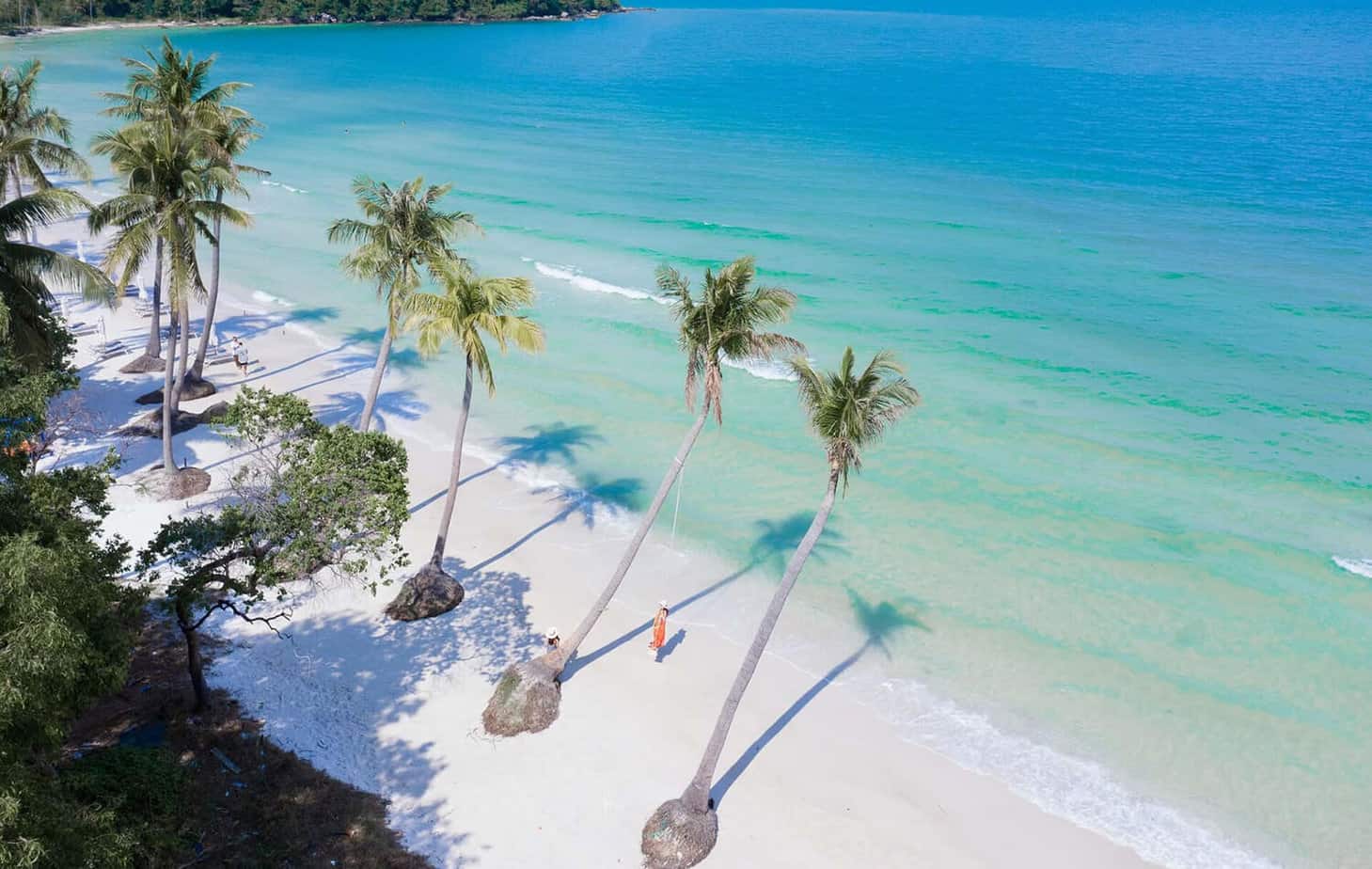 Dubbed the pearl island in Kien Giang, Phu Quoc is the favorite destination of both domestic and foreign tourists. Phu Quoc has many beautiful beaches and islands such as Truong beach, Dai beach, Sao beach, Khem beach, Ganh Dau, Vung Bau, Rach Vem, Ba Keo, Cua Can, or Ba Keo…
Most of these beaches are wild, and quiet and bring a strange sense of peace. In particular, Bai Sao beach, the sea here is blue, clean, and prominent is the white sand beach, running long are rows of green poplars, and two surrounding mountains create a peaceful and poetic scene.
When you come to Bai Sao, you will see the beautiful scenery of the pristine forest and the long, blue beach. Besides, with a peaceful and quiet space, you will feel relaxed, and comfortable and will not be disappointed when coming here.
In addition to swimming, you can also participate in many other interesting activities such as: Discovering the famous pearl breeding place, walking at the night market, and visiting many famous tourist attractions in Phu Quoc (Dinh Cau, Phu Quoc, etc.) Bai Dai, myrtle forest, pepper garden, fish sauce factory…) and enjoy many delicious seafood dishes and attractive specialties here.
We have a unique motorbike tour riding the beautiful Mekong Delta from Saigon to Phu Quoc in 4 days. Check it out and join the tour for a few days to get off the beaten path before relaxing on this stunning beach.
Mui Ne Beach, Binh Thuan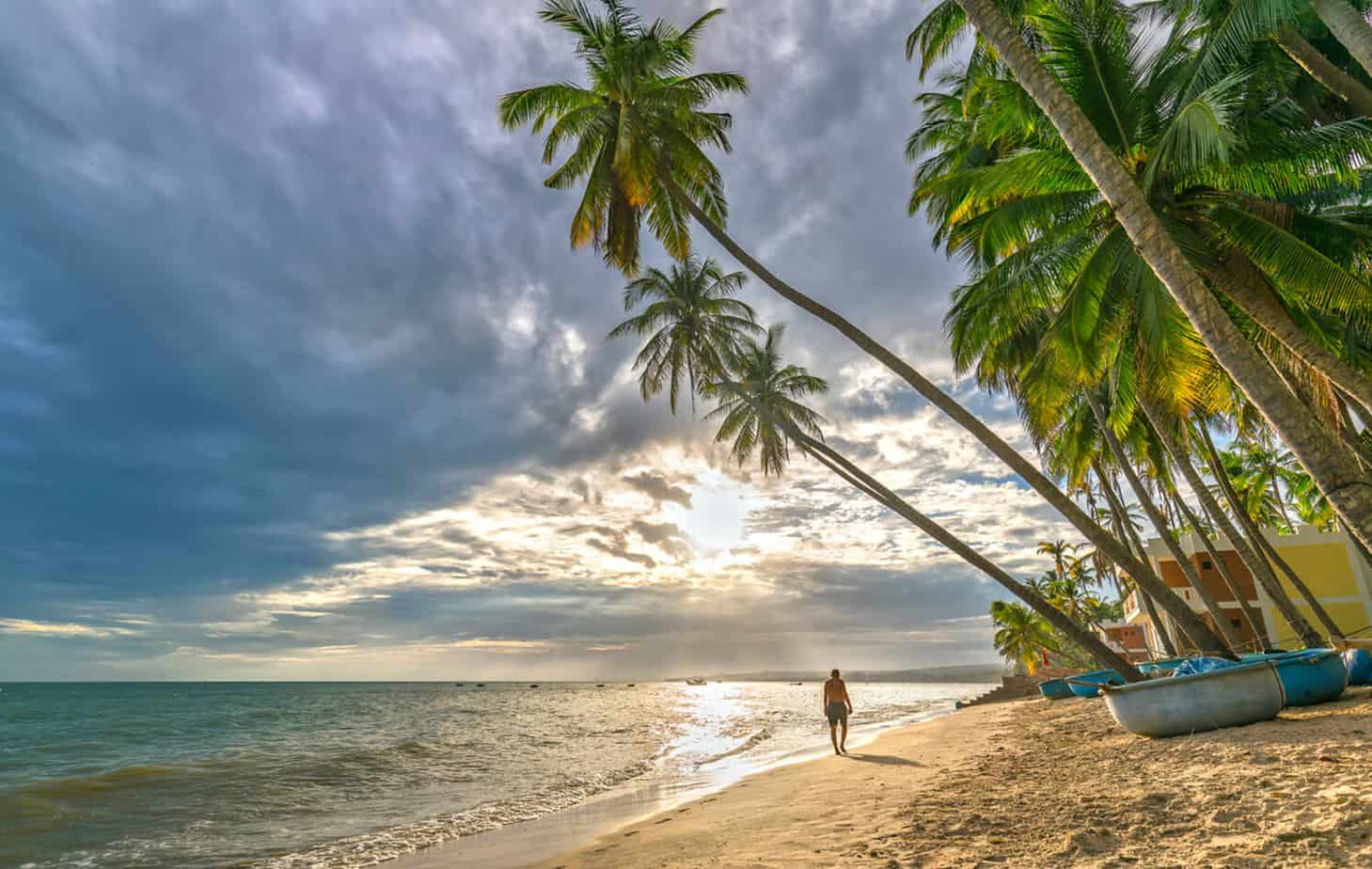 Blue sea – White sand – Golden sunshine are wonderful things, accurate description of Mui Ne beach and it is this that has conquered anyone when coming here and quickly became one of the most beautiful beaches in Vietnam.
Mui Ne attracts a lot of tourists with the turquoise sea water and white sand, under the romantic golden sunshine. Not only that, you can also experience and explore murmuring streams surrounded by giant limestone rocks and unspoiled fishing villages with unique, picturesque beauty. Besides, watching the extremely romantic sunset in Mui Ne is also very interesting.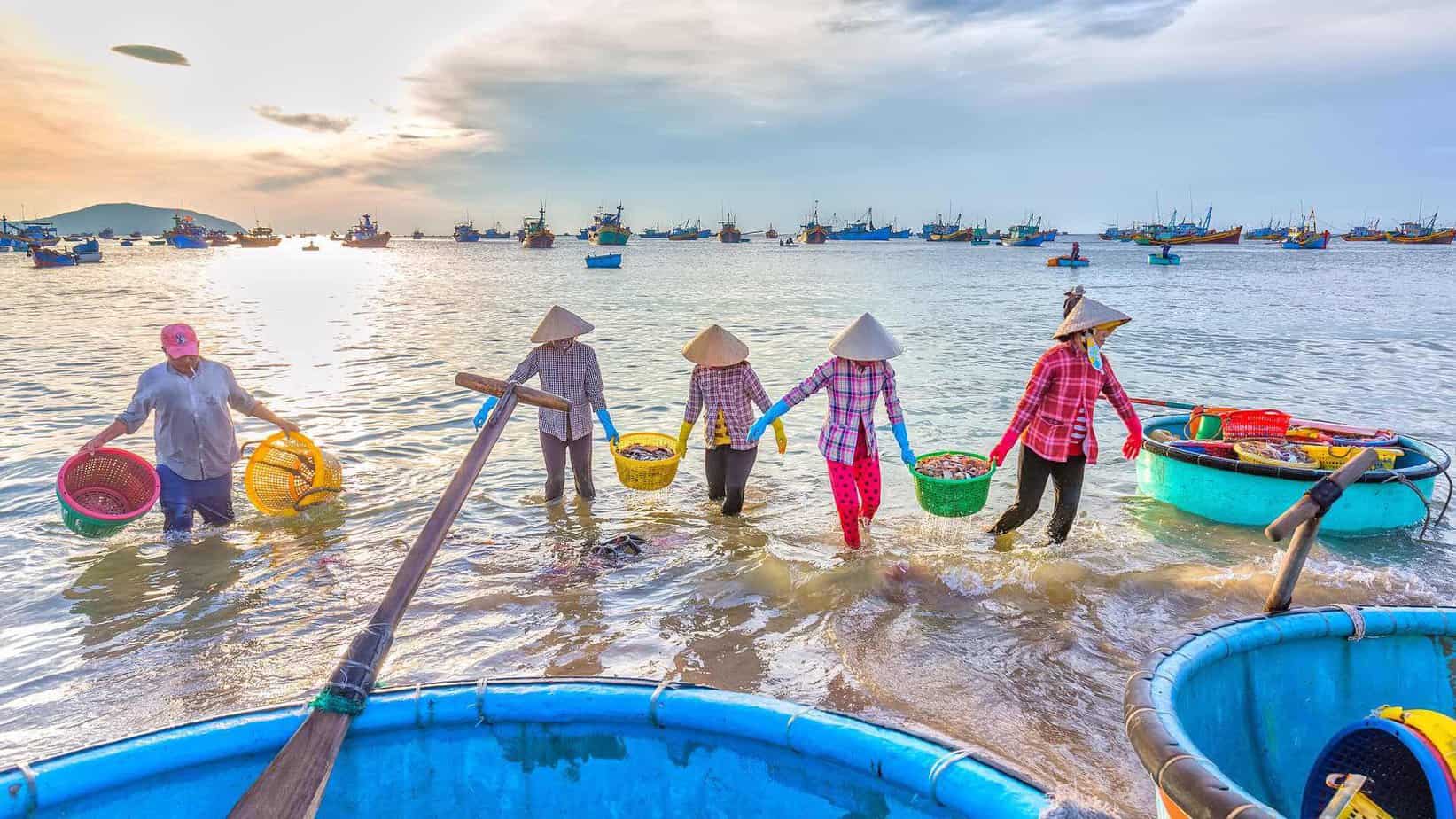 In addition, when traveling to Mui Ne beach in Binh Thuan, you can also explore the pristine fishing village, with its rustic beauty as in pictures, along with discovering the cuisine of the fishing village that also brings impressions. indelible image.
If you get bored playing at the beach, you can take an easy rider tour to Dalat or explore the diverse cultures of ethnic villages of the Central Highlands
Nha Trang Beach, Khanh Hoa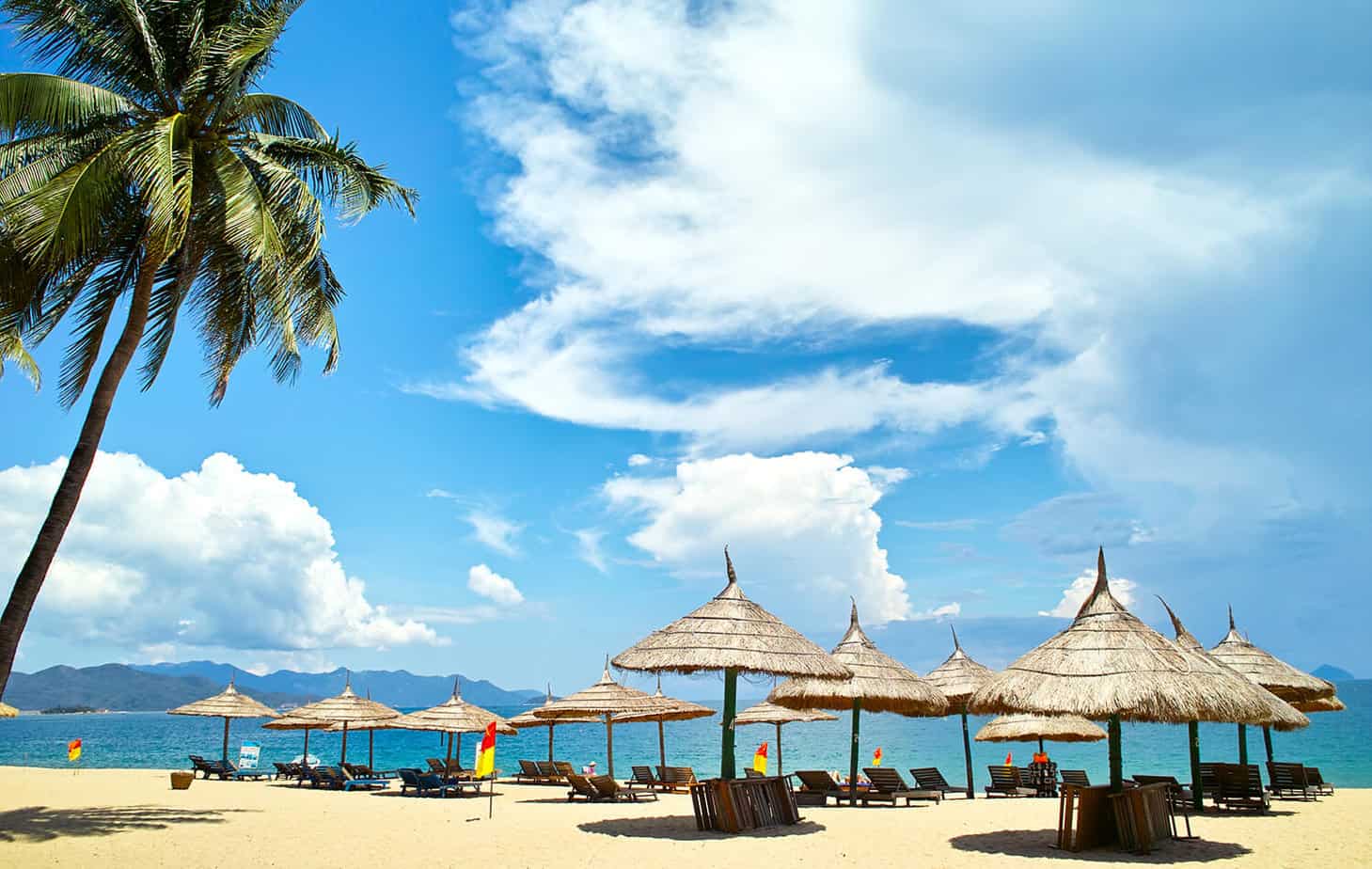 Talking about the beautiful paradise-like beach in Vietnam, it is impossible not to mention Nha Trang beach, a famous sea with dozens of beautiful bays that are true to heaven on earth. There are still a number of pristine, well-preserved beaches and islands here today. This is an ideal place to experience many beautiful beaches, clear blue, and white sand stretching endlessly, and countless islands scattered to the horizon.
Nha Trang attracts many visitors not only for its clear, romantic beaches, but it is also famous for its tourist attractions such as the splendid Ponagar tower, the beautiful Ninh Van bay, Hon Mun, Vinpearland, Van Phong bay or the beautiful Ninh Van bay. shimmering Institute of Oceanography,…
Not only bringing a feeling of relaxation between the sea and sky, the bays, bays, islands, the sea, and tourist attractions, Nha Trang also leaves an impression in the hearts of tourists through the enchanting sea scenery, ready to attract tourists. , to love, to remember at first sight.
My Khe Beach, Da Nang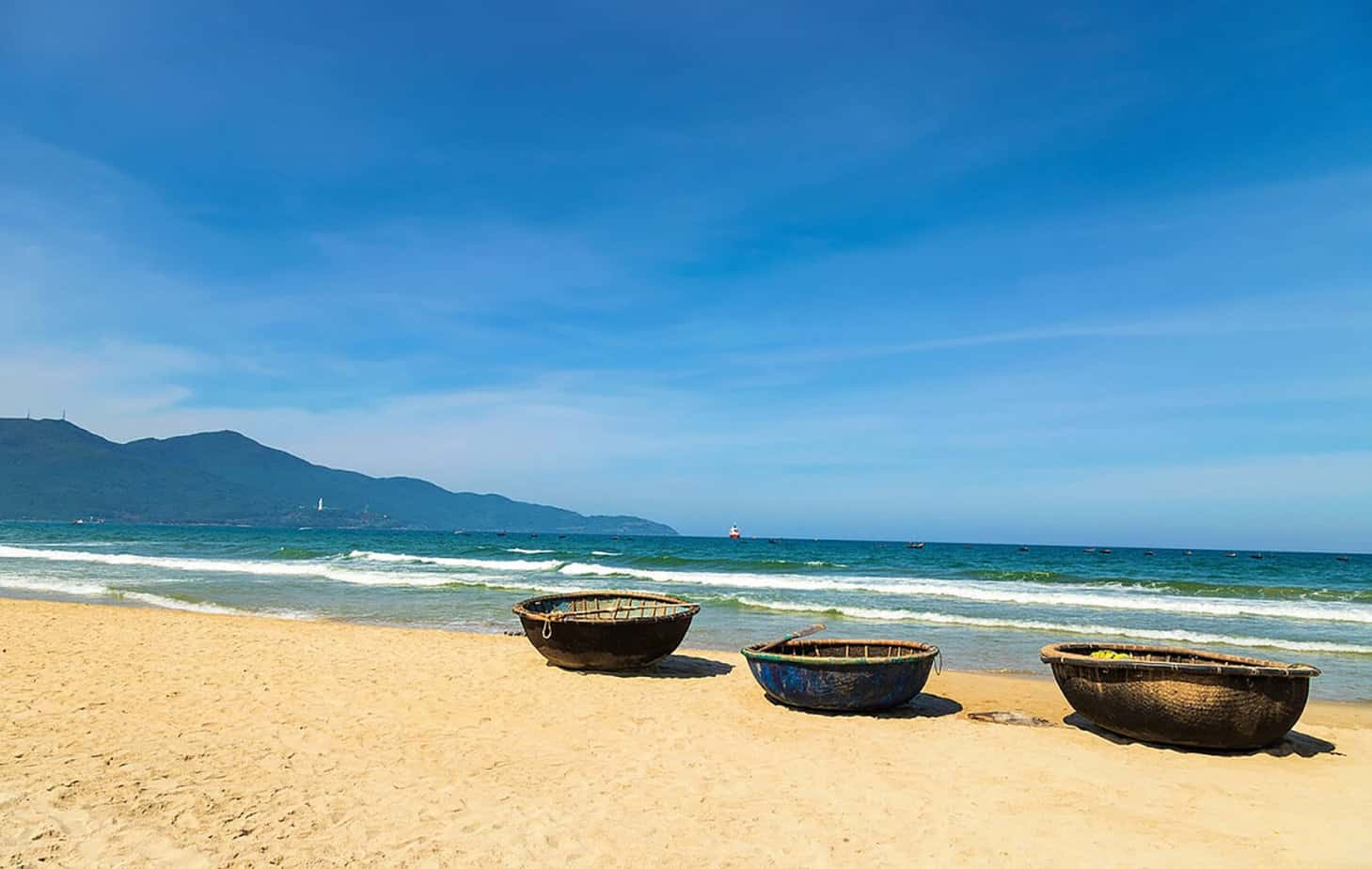 Not only known as the most beautiful beach in Vietnam, but My Khe beach was also voted by Forbes magazine of the US as one of the 6 most attractive beaches on the planet in 2006. With a crescent-shaped sea route and Along with the quiet and peaceful look of the coast behind the ocean, My Khe beach attracts millions of tourists every year.
My Khe Beach is the soul of Da Nang city, playing an important role in the daily life of the people here. In the morning, you go to the beach, watch the sunrise or raid the seafood market, in the afternoon take a cool bath, windsurf, paddle, skydive, or play volleyball, in the evening go camping on the beach or take a walk under the starry sky, The sea will comfort and cherish all your emotions. In My Khe, the beaches with warm, clear blue water, gentle shores are quite safe and are loved by many people for their gentle beauty, whispering waves, and fine white sand under their feet.
Coming to My Khe beach in Da Nang, you can not only immerse yourself in the clear blue sea but also have the opportunity to explore many famous landscapes and landscapes such as Son Tra Peninsula, Ba Na Hills, Hai Van Pass,… Along with that, you will be able to visit and learn about traditional craft villages such as Cam Ne mat village, Tuy Loan ancient village,… All of these bring great experiences. interesting for tourists.
Cua Dai Beach, Hoi An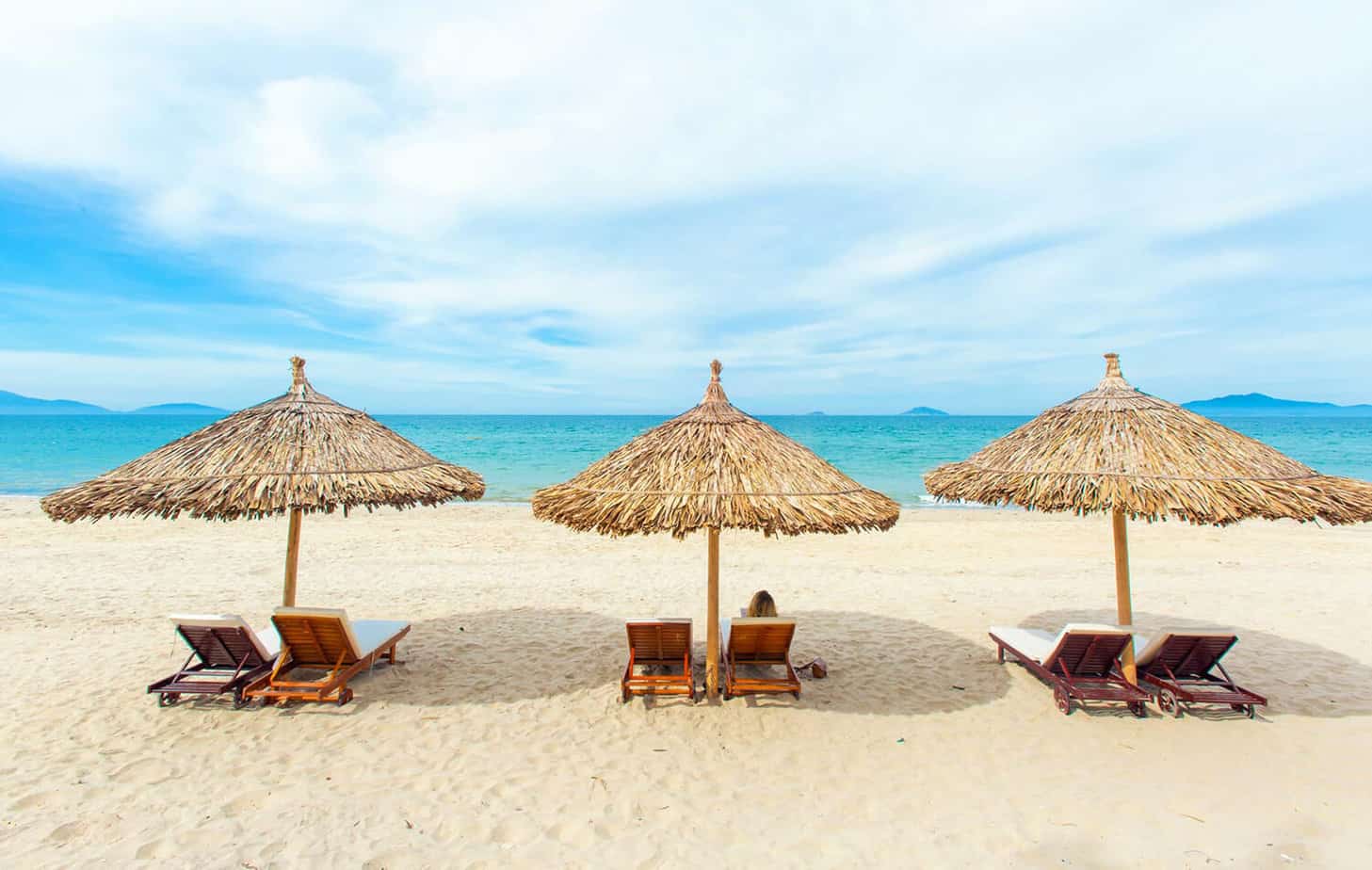 With its captivating natural beauty and cool sea water, Cua Dai beach in Hoi An is one of the beaches that attract a large number of foreign tourists to visit with endless stretches of white sand. as long as infinity, clear blue sea water one color separation.
Take off your sandals and walk around the beach to feel the smoothness and relaxed feeling like never before, all worries disappear, zoom your eyes far away to admire the inherent wild beauty of the island. nature.
You can enjoy swimming in the cool seawater, and participate in sea activities such as cycling around the sea, scuba diving to see marine life under the water, sailing, volleyball, and fishing on the water. The sea is also great.
Ho Coc Beach, Vung Tau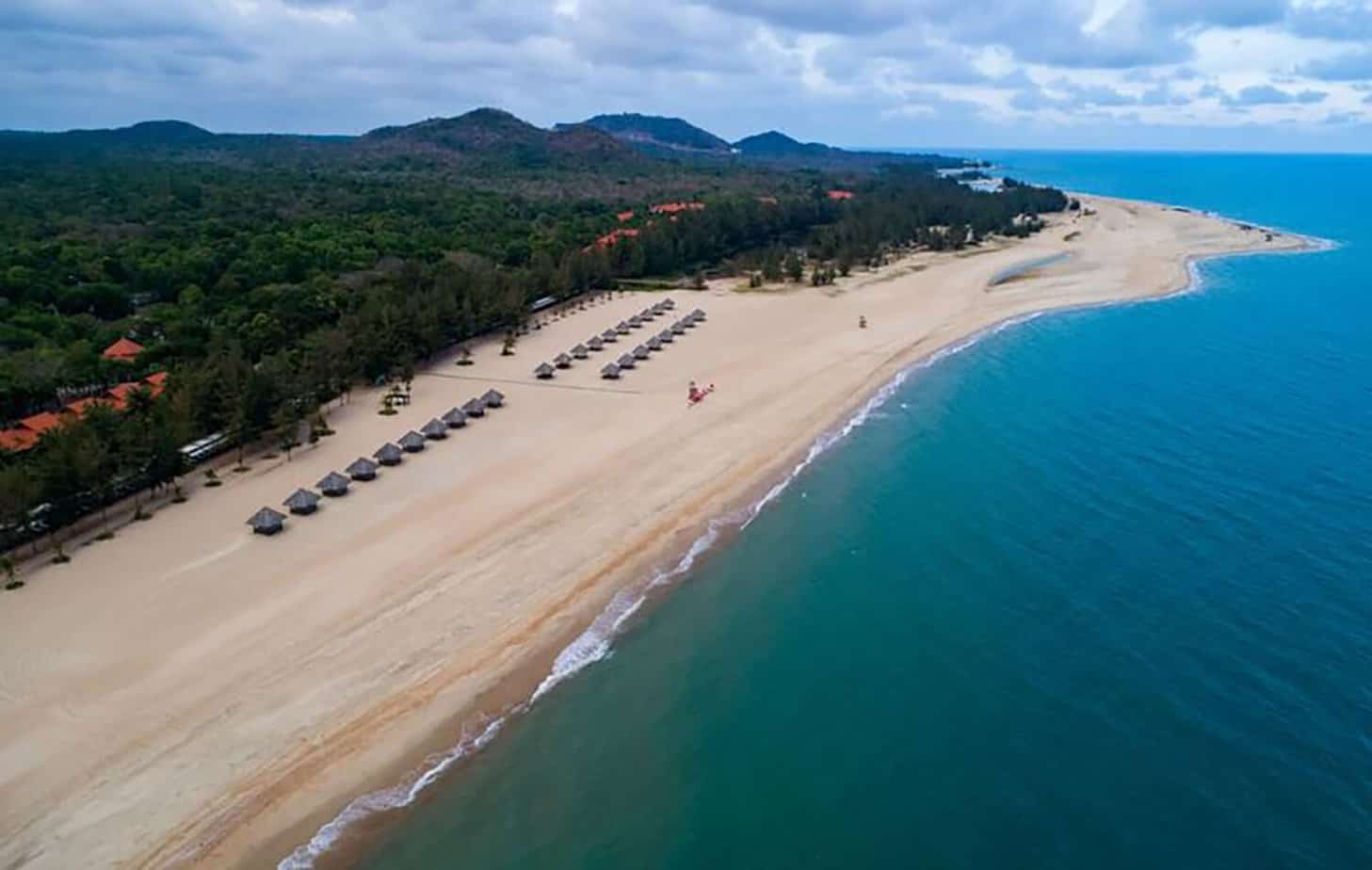 Ho Coc is a beach in Xuyen Moc district, Ba Ria – Vung Tau province, is a newly exploited wild area with clear blue sea water, a wide beach area, gentle slope, and especially poetic beauty thanks to the rocks. The rocks are located right on the beach creating white foamy waves of the sea.
Favored by nature with a romantic space, coming to Ho Coc beach, you will be able to swim and participate in recreational games here or you can also hang out in a hammock under the shade of shady trees to relax. Bathing here gives visitors an interesting feeling like being lost in the middle of nature, dropping yourself in the deep blue water to enjoy the wildness of the mountains and the sea.
Con Dao Beach, Vung Tau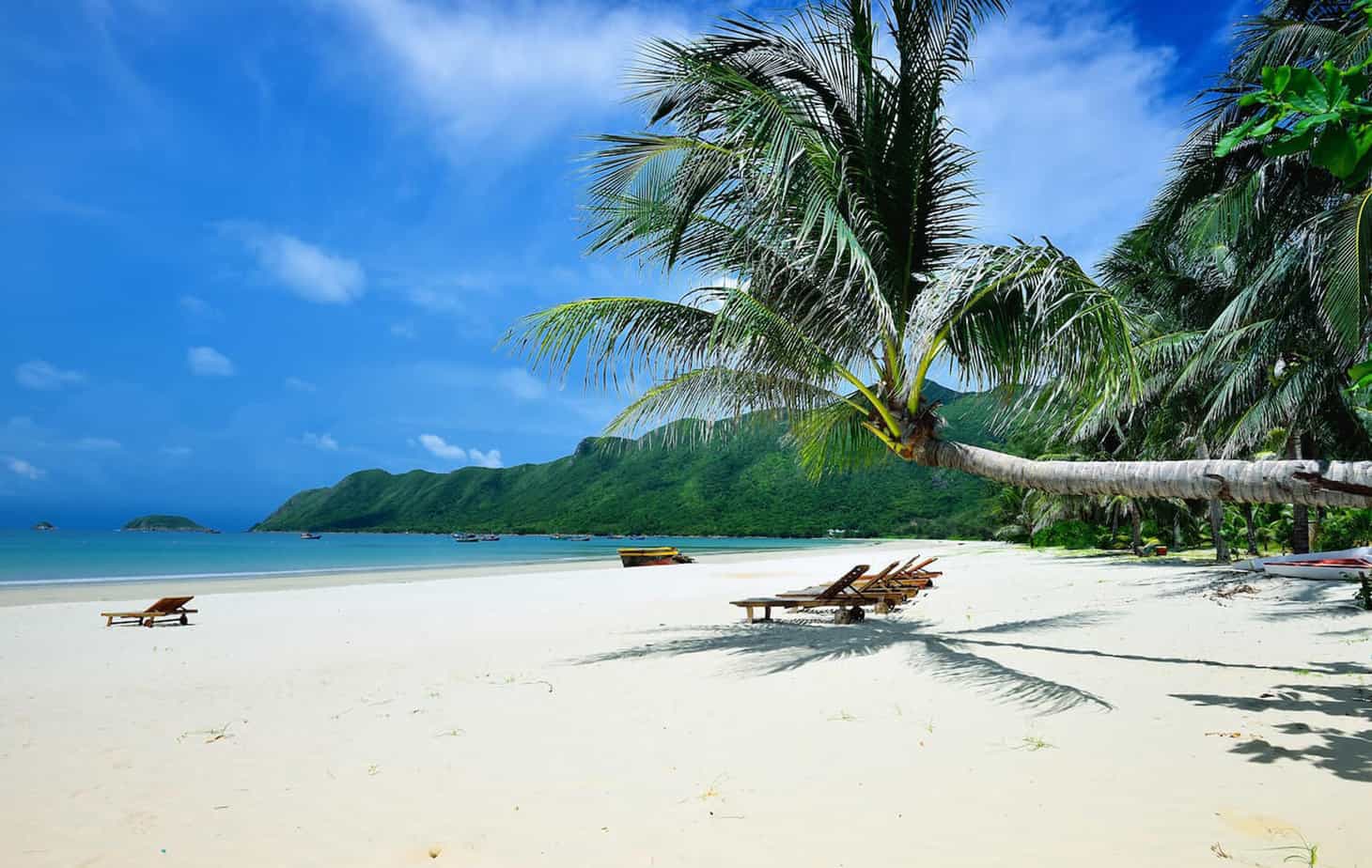 Located off the coast of Vung Tau province and once known as "hell on earth", Con Dao has now become a "resort paradise" for domestic and international tourists. Con Dao is an isolated island off the coast of Vietnam. However, this place still retains the unspoiled, mysterious, and magically beautiful natural landscape with tourists who love to explore. The fine white sands and blue sea reaching the horizon are the first things you will see when coming to Con Dao.
If you love swimming activities, and diving to see corals with many rare species that you think are only found in scientific videos, you must go to Bay Canh Islet, Tre Island, Dam Trau Beach, An Hai, or Lo Voi … to know. what a miracle.
Doc Let Beach, Khanh Hoa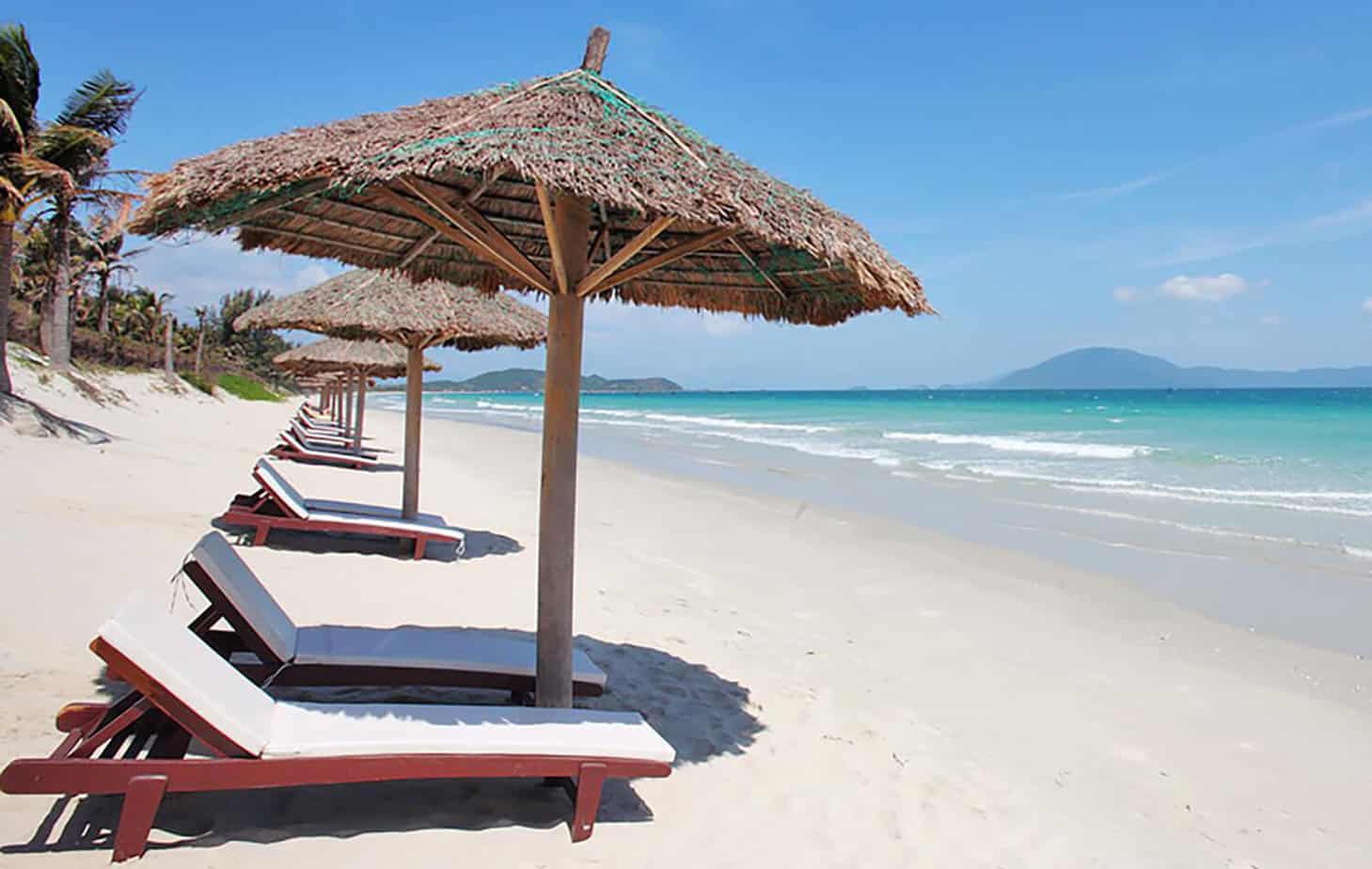 Khanh Hoa not only has Nha Trang beach, 50km to the south of Nha Trang city we will encounter a beach that is still poetic, lyrical, bold naturally unexplored.
It is Doc Let beach with clear blue water and beautiful white sand like the beaches on the Mediterranean coast in the legend but has a very poetic and natural soul that helps visitors have moments of relaxation. Great relaxing minutes.
Lang Co Beach, Hue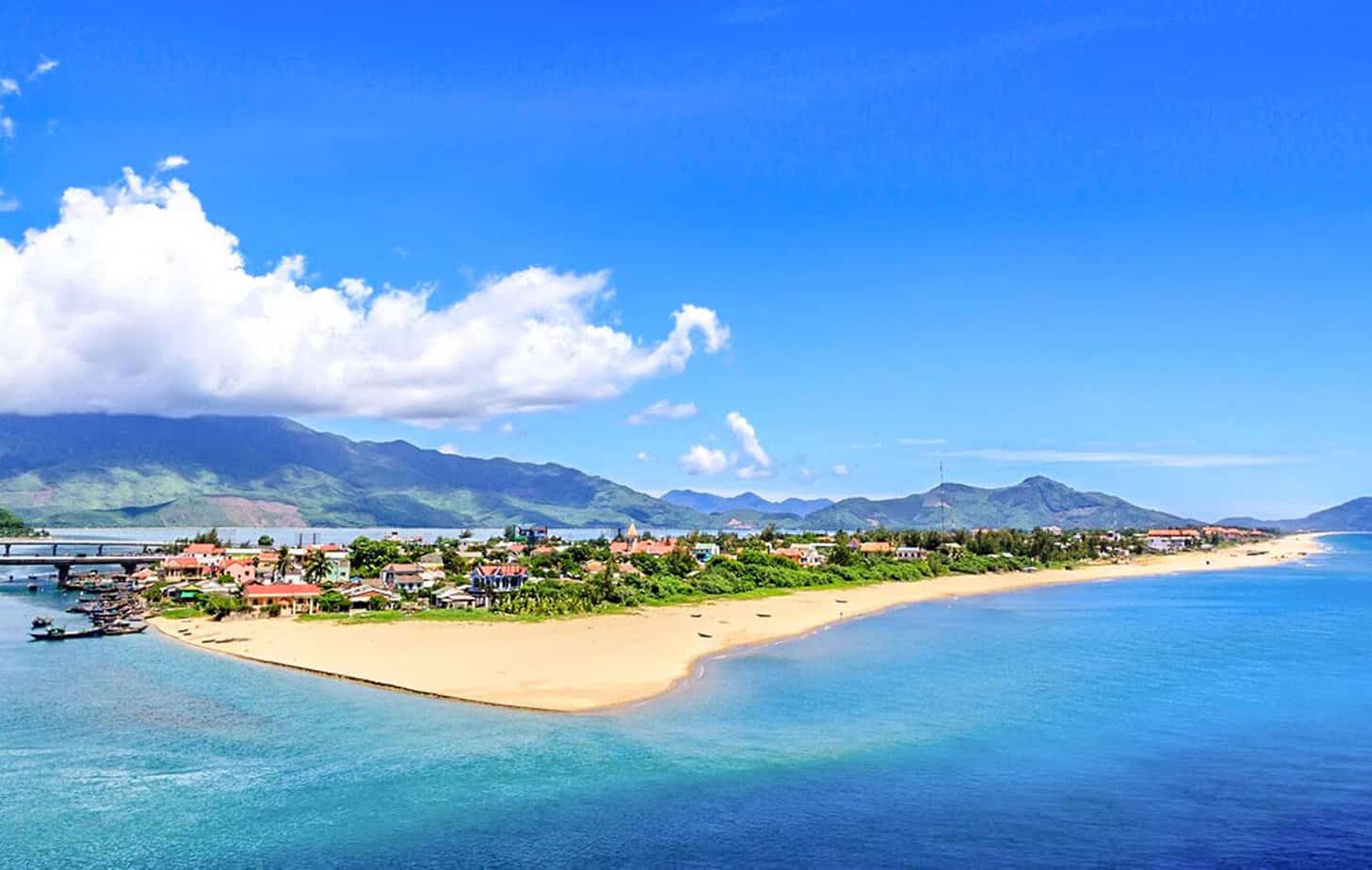 Situated on the central coast of Vietnam, Lang Co, a natural attraction of Thua Thien Hue Province, is one of the most popular Vietnam beach destinations for tourists, especially for those who love beaches so much. This place has a white sandy beach and large waves suitable for beach tourism, and scuba diving. It is especially an ideal place for luxury resorts along the beach for decades.
Lying on the country's most beautiful curve, Lang Co beach has almost everything that nature can offer: green mountains and tropical forests, smooth white sand, full of sunshine and cool, blue and clear sea as crystal, and an average temperature of 25oC in summer. Apparently, this is always in the top places to visit Vietnam beaches for every tourist.
Easy Riders Vietnam has daily tours traveling between Hue to Hoi An/ Da Nang or vice versa through Hai Van Pass and this stunning Lang Co Beach. Join us and explore this magical region.
Ky Co Beach, Qui Nhon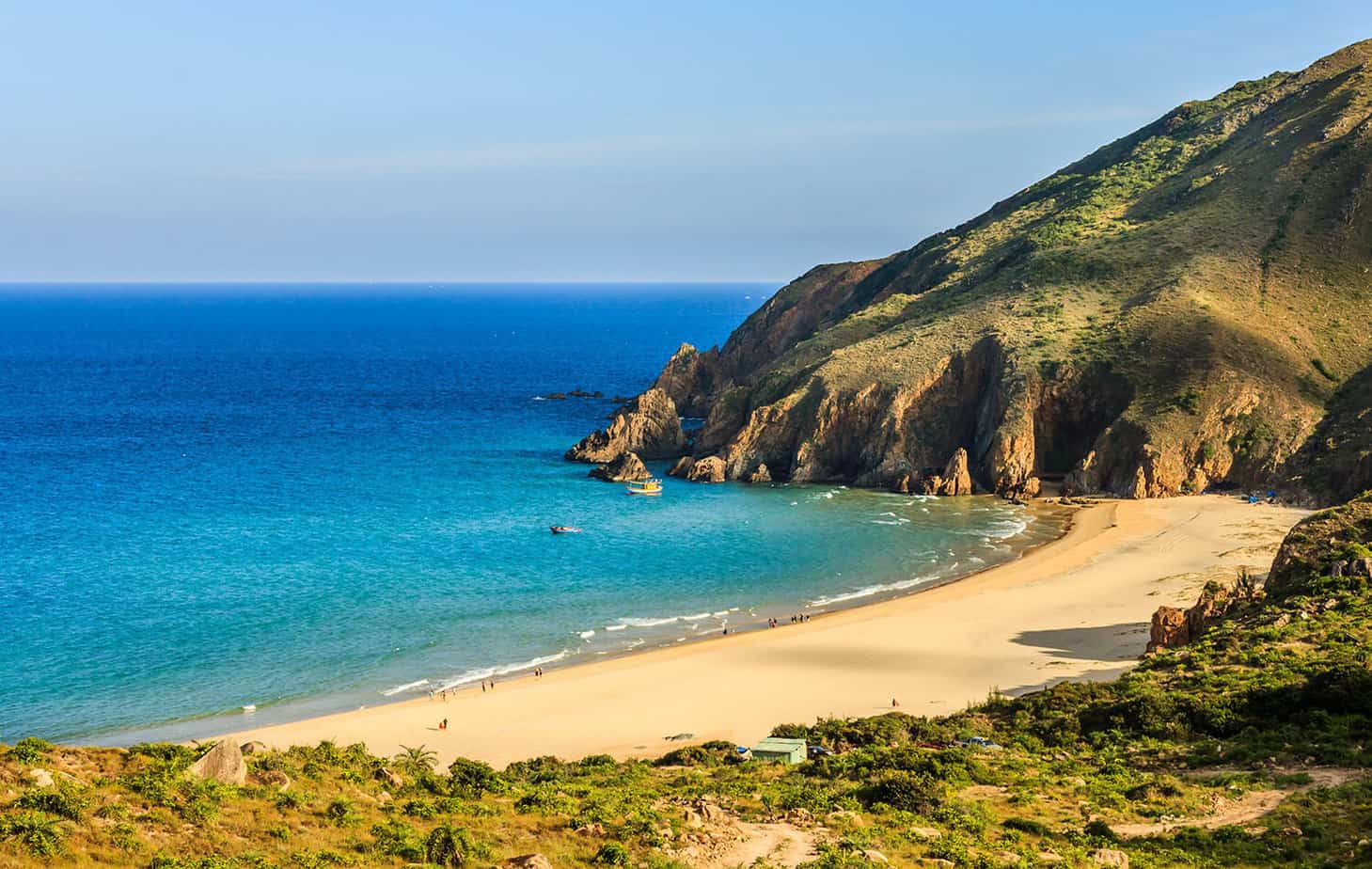 No need to travel thousands of kilometers, we can still reach a beautiful beach like the Maldives right in Vietnam, which is Ky Co Eo Gio beach. The back of the beach is leaning against the mountain, the east side has a beach with blue water and white sand like glass, the scenery here is as beautiful and lyrical as in a fairy tale.
Long Hai Beach, Vung Tau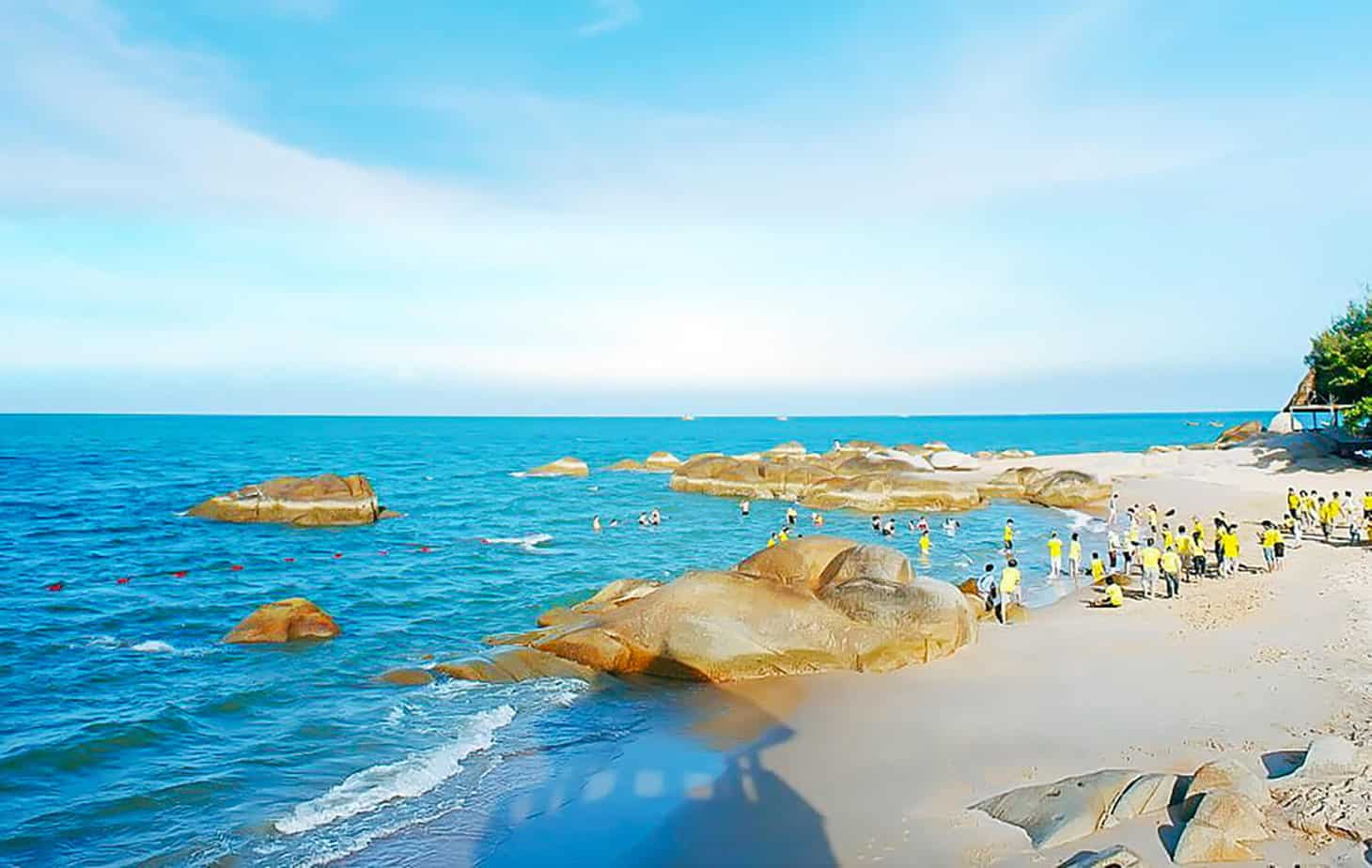 Stretching from the east of Vung Tau city, Long Hai Beach is considered one of the most beautiful South Vietnam beach destinations. Due to not being exploited for tourism much, Long Hai beach still retains its original calm and pristine features. The sea is immaculate with clear blue water; the waves gently hit the stretch of soft golden sand. Along the coast are small rocks that add a lively part to the seascape here.
The sea scene here is like a wonderful, harmonious natural picture. The long sandy beach here is also suitable for lying down and relaxing on the sea or taking a walk along the beach and watching the poetic sea view. All will bring you a feeling of relaxation, refreshment, and forgetting the tiredness of daily life. If you plan for a Vietnam trip, this is definitely one of the best beach destinations in the South you should come to.
Ha Long Bay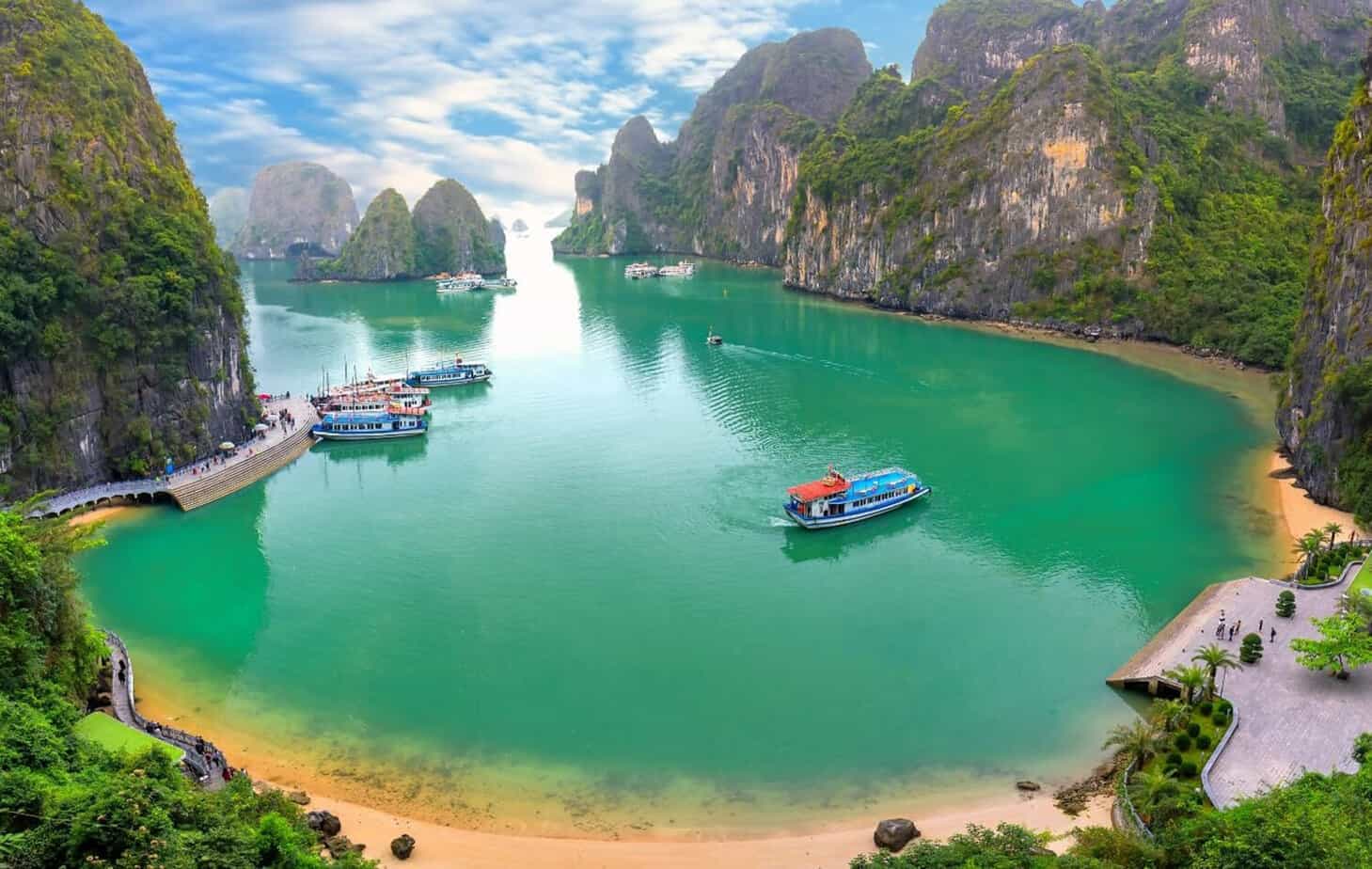 Ha Long Bay – World natural heritage recognized by UNESCO. Although mainly world famous for its limestone cliffs undulating in the sea, Ha Long also boasts a series of private beaches, most notably Bai Chay, an artificial beach that attracts a lot of tourists.
For tourists who love swimming, Bai Chay is a destination not to be missed when traveling to Quang Ninh. Another suggestion for visitors is to take a boat to Ti Top Island, located in the center of the bay, where the water is turquoise and calm. From here, visitors can conveniently visit Lan Ha Bay, Bai Tu Long Bay, Ngoc Vung Island, Cat Ba Island, and Tuan Chau Island. The area is also famous for caves such as Sung Sot cave, Dau Go cave, Trong cave…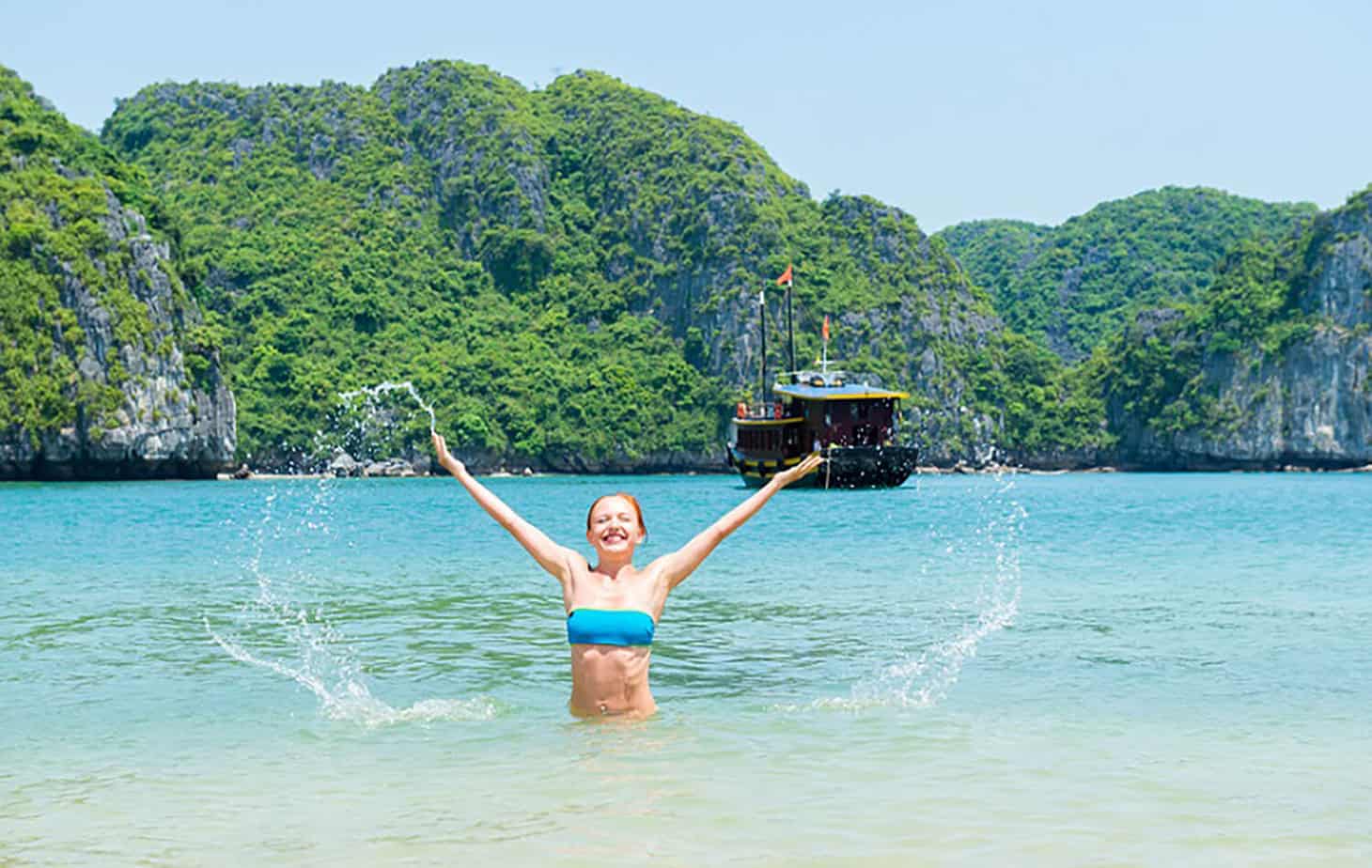 Hopefully, with this article, Easy Riders Vietnam has helped you to have a deeper look and more choices about finding the best beach vacation in Vietnam. If you think it is useful, then please share it on your social media so everyone can have the best vacation in Vietnam.
You might be interested in other articles:
– Beautiful waterfalls in Vietnam
– Spectacular mountain passes in Vietnam
– Best ways to travel around Vietnam