Vietnam is a land of natural wonders, and its waterfalls are no exception. From the majestic Ban Gioc Falls to the picturesque Pongour Waterfall, Vietnam is home to some of the most beautiful waterfalls in Southeast Asia. If you're looking to explore Vietnam's natural beauty, a visit to one of these waterfalls should definitely be on your itinerary.
In this article, Easy Riders Vietnam's compiled a list of the top 12 most beautiful waterfalls in Vietnam. Whether you're an adventurer seeking a challenging hike, a nature lover in search of a peaceful retreat, or simply looking to snap some breathtaking photos, these waterfalls have something for everyone. So pack your bags, grab your camera, and get ready to experience the natural beauty of Vietnam's stunning waterfalls. Keep reading to discover the best waterfalls Vietnam has to offer.
1. Ban Gioc Waterfall, Cao Bang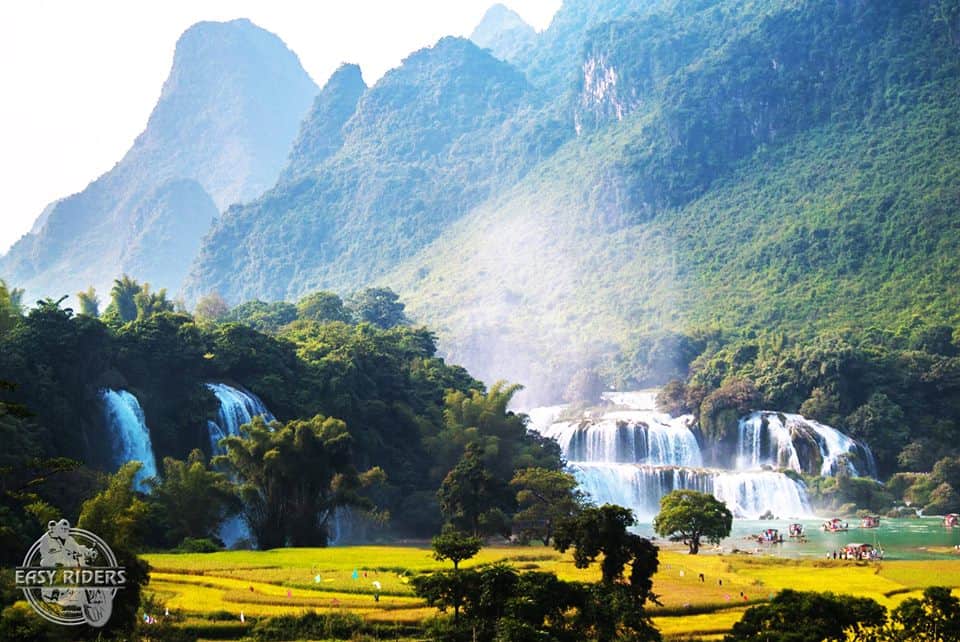 Ban Gioc Waterfall is the most spectacular of all waterfalls in Vietnam. This huge waterfall has three levels and is separated by rocks and trees. Vietnam is on one side of the water and China is on the other. You can find them in the absolute north of the country in the province of Cao Bang. The Ban Gioc waterfall is 300 meters wide and 30 meters high. The water clatters down into the Quay Son River. The deep green-colored water completes the picture.
Ban Gioc has gained a name for being one of the 4 largest cross-border waterfalls in the world generally, and particularly among the most famous in Vietnam. For the last few years, there has been a surge of tourists who cross the globe to observe its uniquely exotic, natural beauty.
Located in Dam Thuy Commune (Cao Bang City) which is 335km away from Hanoi, Ban Gioc Waterfall shares part of its border with Quang Tay Province (China) – the western side belongs to Vietnam, while China affirms its ownership of the eastern side. Therefore, the Ban Gioc Waterfall area achieves a rich diversity of cultural patterns from indigenous ethnic minorities.
Both countries are committed to deriving substantial benefits from the site in terms of tourism and economic profits. What makes the Ban Gioc Waterfall scene captivating is its extraordinary flow of water running dazzlingly along with stair-like molds, which looks like a giant doorstep of mother nature. This seductive charm is undoubtedly a major factor that attracts tourists from all over the world.
2. Pongour Waterfall, Lam Dong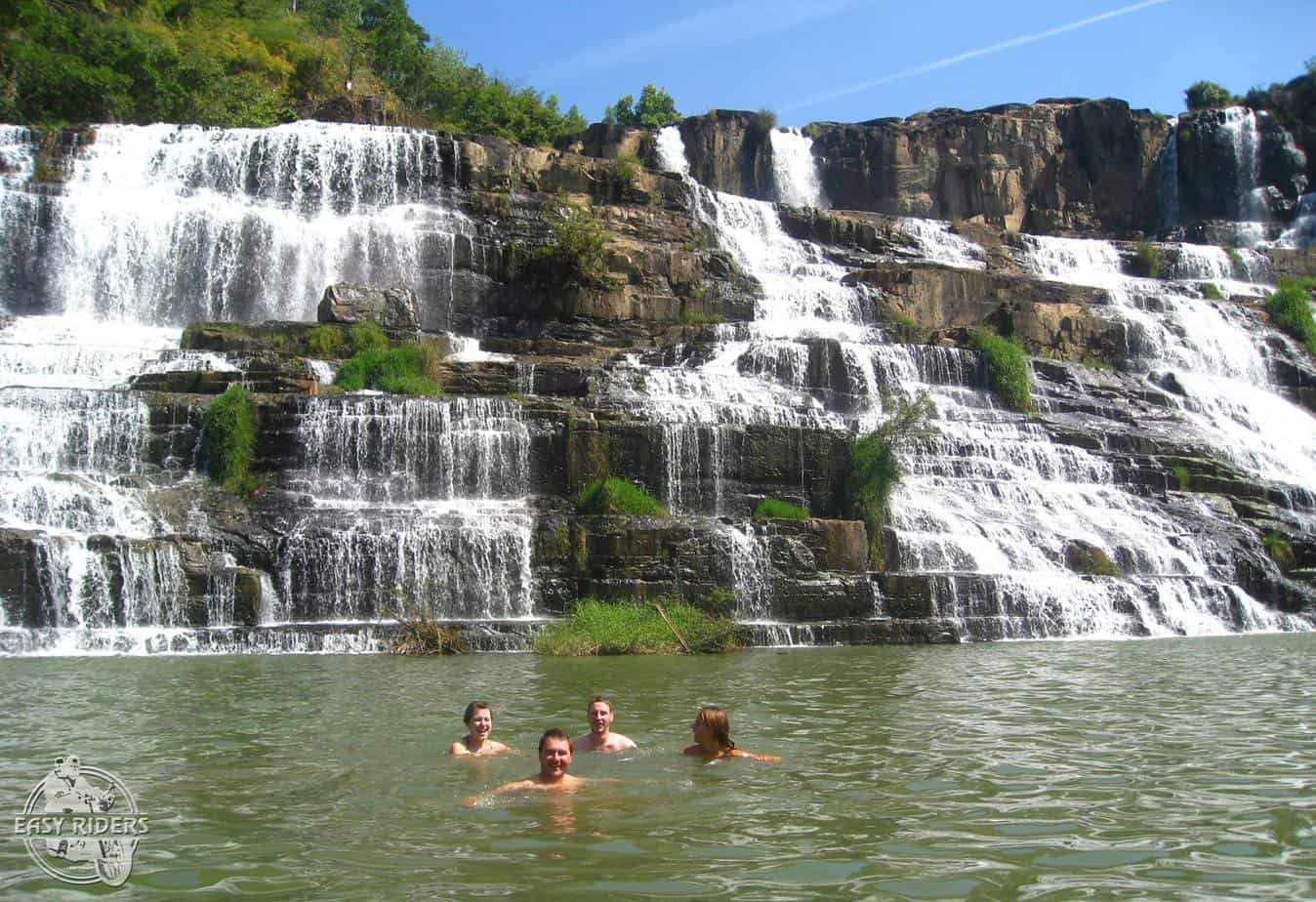 Dalat is located in the mountains of Central Highlands, Vietnam. It is a favorite holiday destination for the locals and besides many tea and coffee plantations, it has much more to offer. You will find several waterfalls. A 40-minute drive from the lovely mountain town of Dalat is the impressive Pongour waterfall. The amount of water is not huge but it is the terraced rock that makes the waterfall so beautiful. The Pongour waterfall is 40 meters high and spreads over 100 meters of 7 rock levels. According to legend, it was created by the fossilization of four rhinoceroses. At the foot of the waterfall, you can take a swim. The waterfall is most impressive during the rainy season in the South Vietnamese region.
Pongour is one of the most famous waterfalls in Lam Dong Province. It's much loved and much visited by Vietnamese of all ages. As a result, the falls are developed to cater to large amounts of visitors, but, unlike other popular waterfalls, Pongour is tastefully done. Wide gravel pathways and steps lead through the lush, landscaped gardens (no concrete animals here!) to the gaping valley below. There are two routes to the waterfall: a gentle dirt path and some steps, or a steep, long staircase. It makes sense to take the latter down and the former up. At the bottom, there are dozens of rather unattractive trinket stalls and food outlets, but you'll be glad that drinks are available here because it gets exceptionally hot and humid in this craterous valley. Beyond the trees, that provide shade for the stalls, is a wide and exposed, rocky basin. This enormous chasm was once filled by the torrent of the Đa Nhim River. These days, however, its flow is controlled by the Đa Nhim dam, which you can see from Highway 20, about 10km east of Pongour falls. Unfortunately, this has also affected the majesty and might of the waterfall. What water there is gushes over a wall of rock, 100 meters wide and 40 meters high, and flows down across seven separate levels of terraced rock to the big placid pool at the bottom.
The waterfall is still very, very pretty, but the reduced flow robs it of its gravity and grandeur. Instead of being 'impressive' we would call these falls 'poetic' – there's a light and playful quality to them; one gets the impression that Pongour is a somehow benevolent waterfall, as opposed to Elephant falls, for example, which is brutal, raw and powerful. One of the myths surrounding Pongour likens the heroine's hair to moving water which, given the fine and flowing nature of Vietnamese hair, seems a fitting and beautiful poetic metaphor for the gentle cascade of these falls.
3. Dray Nur Waterfall, Dak Lak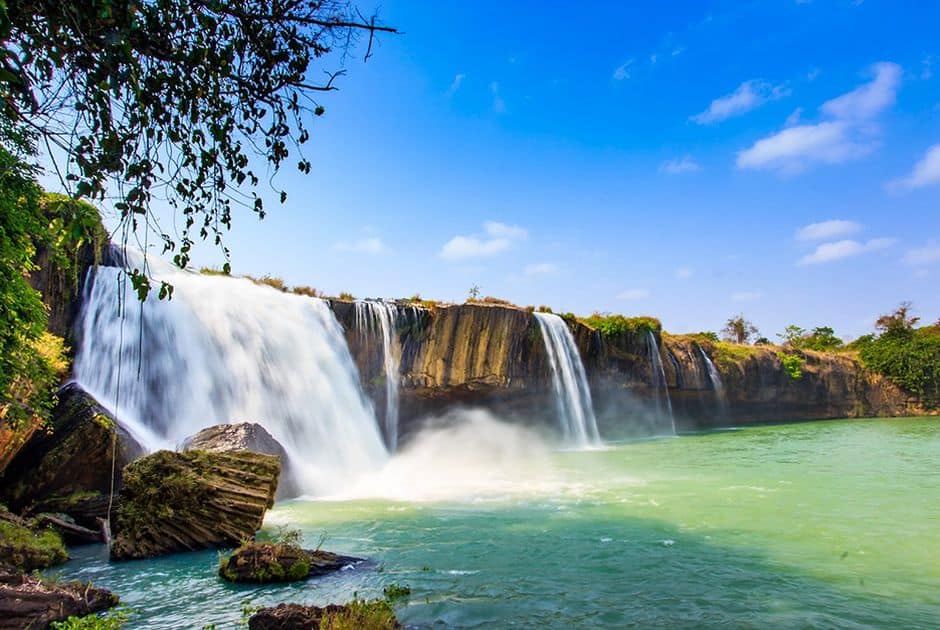 The Dray Nur and Dray Sap waterfalls are worth the trip from Buon Ma Thuot. Easy Riders Vietnam organizes unique motorbike tours to visit these stunning waterfalls when we traverse through the Central Highlands. These waterfalls are almost next to each other. Dray Nur is the more impressive and beautiful of the two, so if you only have the time for one, opt for this one. It is about 250 meters long and 30 meters high.
Dray Nur waterfall in Kuop Village is about 25 km south of Buon Ma Thuot City. The waterfall, which is 250m long and 30m high, is the most beautiful and largest of the three waterfalls on the Serepok River. From afar, Dray Nur offers a spectacular panorama. Dray Nur is renowned for its purity and its incredible legends. Dray Nur in the local language means Female or Wife Waterfall. According to one legend, a beautiful E De girl and her boyfriend were sitting on a big rock, when a monster appeared in a column of water and drove the young man away. When he returned, he discovered that his girlfriend had been taken by the monster. The rocky bank beside the waterfall is the place where the young couple sat and the waterfall is the column of water where the monster appeared.
The sound of the waterfall, according to the locals, is the sound of whispers telling the story. The mysterious beauty of the waterfall inspires all visitors, who are usually curious about the legend behind it. Nguyen Quang An is a photographer from Ho Chi Minh City: "The Central Highlands is spectacularly beautiful with magnificent mountains and waterfalls. There are mysterious Rong communal houses in the central highlands. The nature here is fantastic and the people are wonderful".
The magnificence of Dray Nur Waterfall might make some feel dizzy but for adventure lovers, visiting the waterfall is an impressive experience. In our experience, Dray Nur consists of three levels creating three lakes. You can swim in the first lake because the water is shallow. In the second lake, you must be careful because the rocks are very sharp. In the third lake, the water is quite deep, between 8 and 10m. From this lake, walking along the rock bank, you can enter a cave. Also from here, there is a panoramic view of the waterfall.
The cave extends more than 3,000 square meters. Stalactites and stalagmites in the cave create an extraordinary scene that delights visitors. It is also possible to hike forest trails and contemplate centuries-old trees whose roots embrace the rock or admire bats flying at sunset.
4. Dambri Waterfall, Lam Dong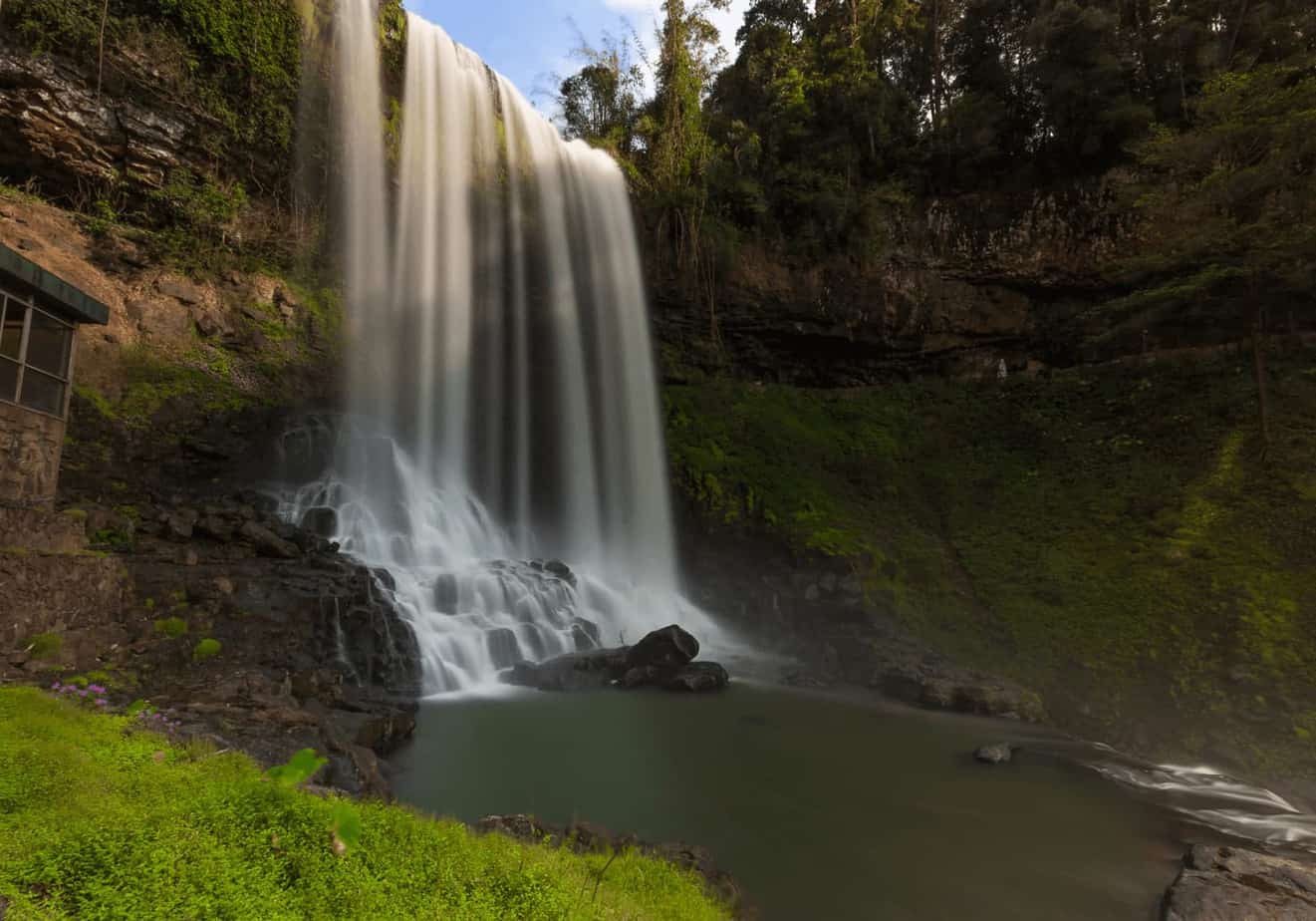 Dambri is 130 km from Dalat, making it possible to visit in a day trip. This impressive waterfall is considered by some to be the highest in the province. Clear, cold water flows from the mountains of the Central Highlands and plunges over a 70-meter rocky slope into a large pool before flowing down the valley via a series of gentler, terraced waterfalls. You don't have to worry about which season you come here. The water rushes down all year round. The waterfall is extremely popular with local tourists and so it can get very crowded on the weekends. Try to plan a visit during the week.
Despite being turned into a famous tourist attraction, Dambri waterfall still offers a dramatic and majestic sight with its natural beauty. Before reaching the falls in Dambri resort, visitors have to walk a long distance under the blue sky and white clouds.
There are three ways to conquer the waterfall. The first way is climbing 138 stairs, the second way is taking the elevator and the third way is the most thrilling with the use of roller coasters. What is most enjoyable is relaxing in tranquil nature, hearing the sound of pouring water and watching it spilling over a rocky escarpment and falling into a large pool before gurgling down the valley with a series of terraced cascades.
Dambri waterfall looks the most beautiful on sunny days. During these days, you can see more clearly the surrounding mist that is created by pouring water. If you are lucky, you can even see the rainbow. The green of the dense forest, the white foam of water, and the colorful rainbow will create a picturesque and breathtaking sight of the waterfall. It looks like you are getting lost in a fairy jungle. Furthermore, nature has also endowed this place with a primeval forest full of tomentose plants and giant tropical trees. Thus, this is a wonderful place for those who want to explore nature. Especially, there is a fossil plant cave under the third floor of the waterfall. In order not to slip, be careful of the moss when you walk.
The name "Dambri" is inextricably linked with a legendary love story that happened long ago. A beautiful girl, namely Bri fell in love with Kdam – a brave boy but they could not get married to each other because of the difference and conflicts between the two tribes where they live. Kdam was so sad because he could not marry his girl, then he left his village and went to a forest. Shortly afterward, Bri also left her home and started her journey to look for her boyfriend. Unfortunately, although Bri spent months passing through many forests and streams, she could not find him. She came back to the forest near her village with the hope that Kdam would come back to see her. However, there was no news from Kdam. He never came back. Bri kept waiting and crying a lot until she died. Her body was turned into rock and her endless tears kept pouring down strongly over the rocks. The place formed a waterfall and was named Dambri (the combination of the names of two people) to memorize them. Dambri also means "waiting" in the K'Ho language. The people from the two hill tribes were deeply touched by their truthful love and felt regretful. They reconciled with each other and allow their children to get married to whoever they wanted.
5. Elephant Waterfall, Dalat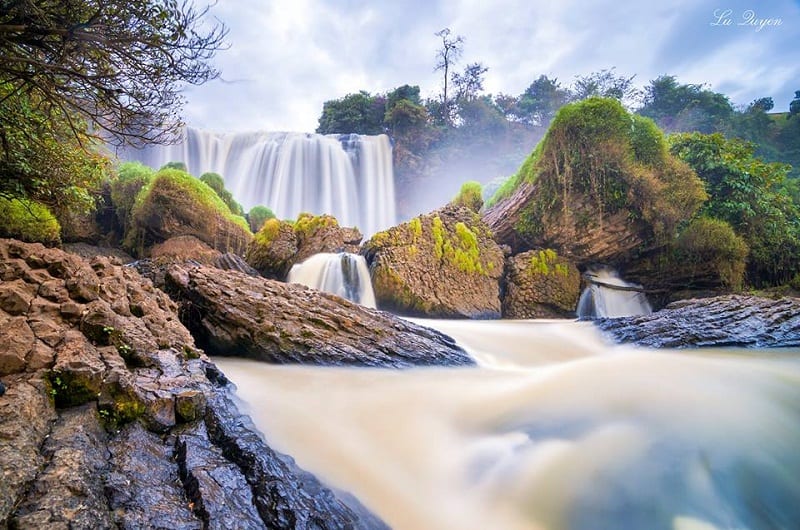 One of the most famous waterfalls in Dalat is the Elephant Falls. The cool thing is that you can get very close, you have to do some climbing and clambering. Take into account wet slippery stones, but if you have climbed over the rocks you are very close. You have a beautiful view and feel the water droplets on your skin.
The waterfall was called Elephant Waterfall as when you are at the bottom and look up to the waterfall, the big rocks next to the waterfall are just like the back of an elephant.
If you take any Easy Rider Tours from Dalat, you get a chance to explore this spectacular waterfall and its all glory.
6. Phu Cuong Waterfall, Gia Lai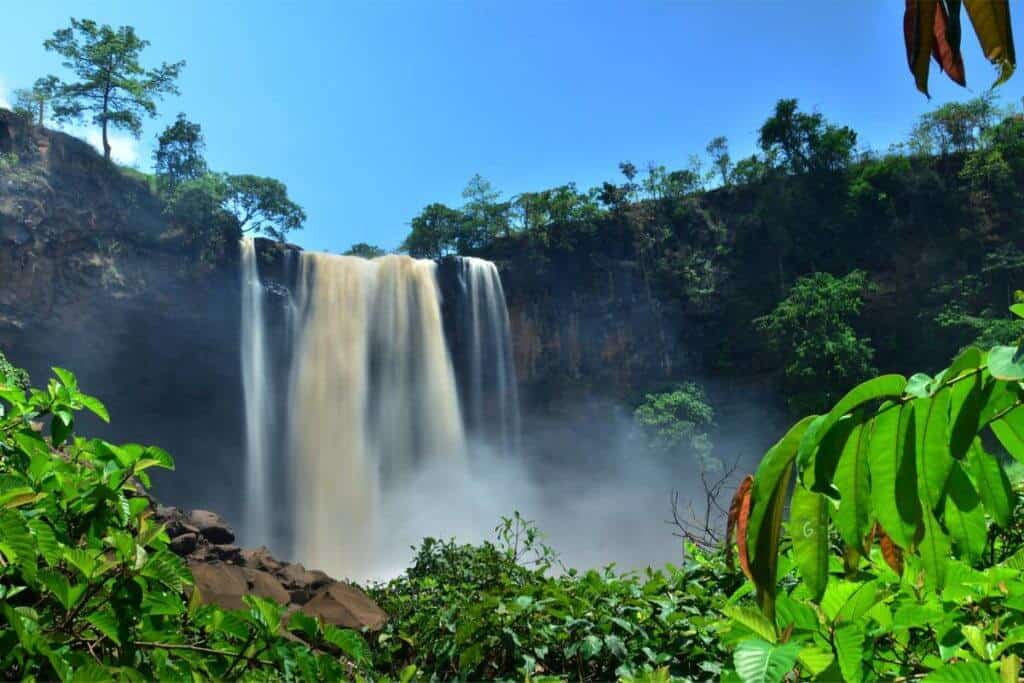 Phu Cuong waterfall is surrounded by lush vegetation with water sliding over the red rocks and dropping down 38 meters. The sight is truly breathtaking, and what's even more impressive is that this waterfall is completely off the tourist radar; it remains natural, without the restaurants and shops that so many other places of interest in Vietnam have.
The best way to visit this beautiful waterfall is that you stay in the small town of the old Ho Chi Minh Trail, Chu Se, and hire a moto-taxi to take you there. Our Easy Rider Tour from Dalat to Hoi An (or Hoi An to Dalat) stays overnight in this area to explore and enjoy this magnificent waterfall.
7. K50 Waterfall, Gia Lai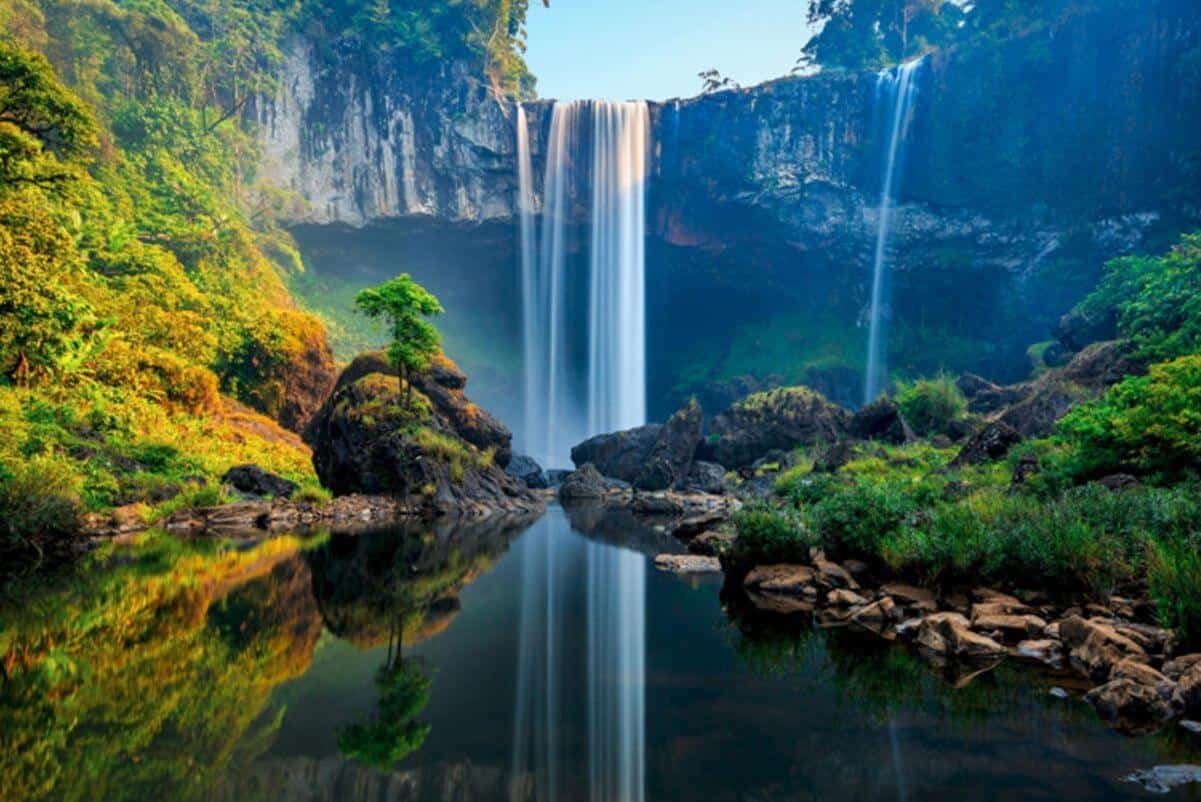 You probably never heard of the K50 Waterfall. Yet it is one of the most beautiful waterfalls in Vietnam. However, to get there you have to walk through the jungle, a walk of almost a day, with zigzag paths and steep slopes. Unfortunately, there are no good visible trails to the waterfall and you can't use Google Maps to find it. Before you go, it is wise to arrange a trip with an organized tour. You can even do camping here in the middle of the jungle.
8. Bao Dai Waterfall, Lam Dong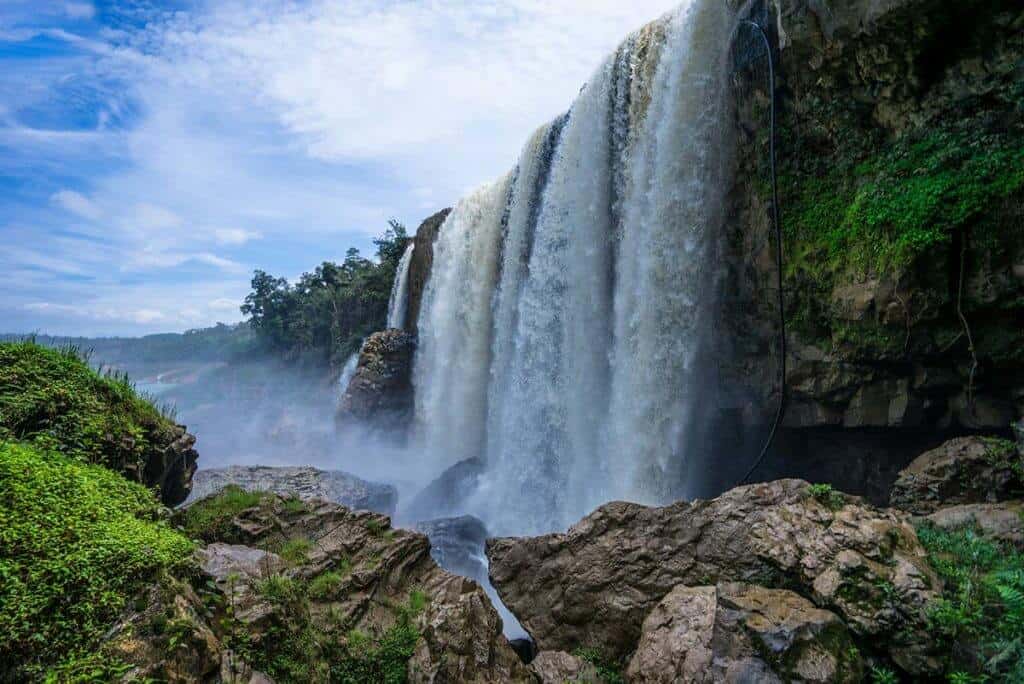 The Bao Dai Waterfall is one of the most impressive waterfalls in Vietnam, but because they are very far from the beaten track, they are rarely visited. These huge, thundering waterfalls are not touristy and the area has only recently been more developed. So far, the development has been subtle and tasteful without the kitschy statues you find in many other places. Stone steps and paths through crag lead to the waterfall.
9. Datanla Waterfall, Dalat, Lam Dong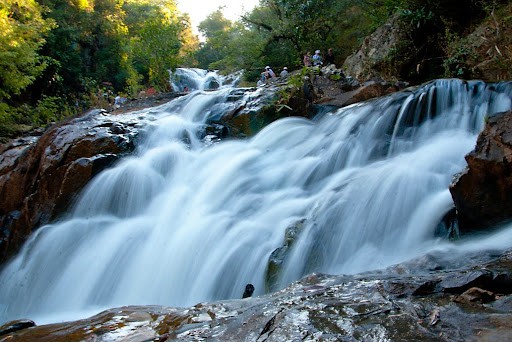 Located on a hill of Prenn covered with thousands of pine forests about 8 km from the city center of Dalat, Datanla Waterfall is a nature amusement park of sorts, offering several activities besides sightseeing. The waterfall is consisting of three floors, tourists can walk down or they can take the roller coaster to each floor.
In addition, this place is also a playground with many adventure games like Canyoning, Kayak, and High Rope course. It is not the biggest or most impressive waterfall in Vietnam but Datanla is special. The name Datanla means "water under the leaves" in an ancient dialect. And even today, Datanla maintains its charm as a pretty little natural gem "hidden" in the forest.
When you do an Easy Rider Tour around Dalat and its countryside day tour. We also show you this beautiful waterfall.
10. Yang Bay Waterfall, Khanh Hoa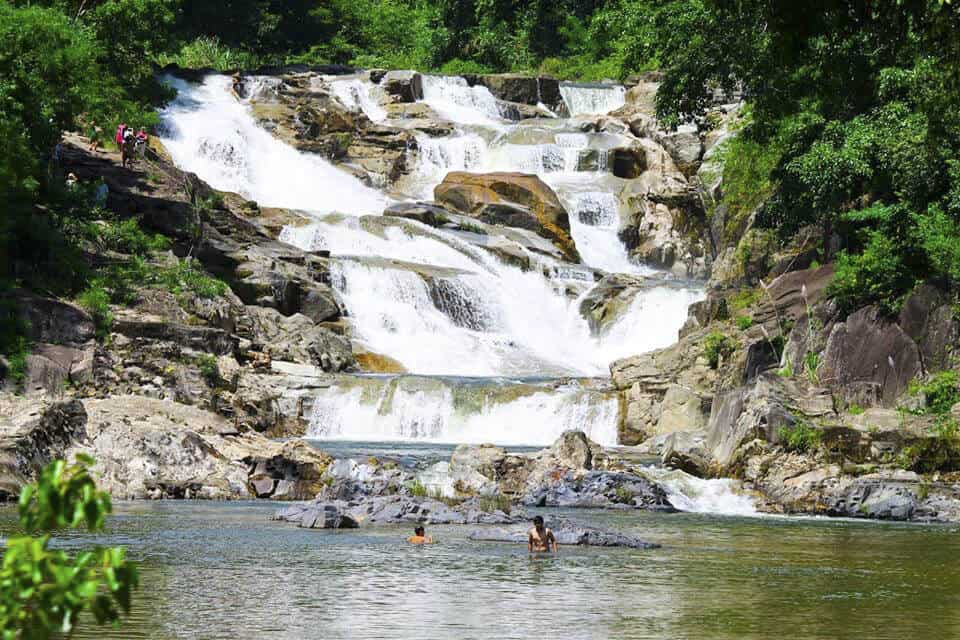 Yang Bay Waterfall is one of the top 12 most beautiful waterfalls in Vietnam that Easy Riders Vietnam definitely recommends you to pay a visit if you have a chance. It is a lovely, peaceful place to relax and a fun day out from Nha Trang. Yang Bay waterfall consists of several layers that you can climb and ends in a lake where you can swim. A challenging 15-minute trek takes you past the first of three natural waterfalls, converging in a lake and surrounded by a densely forested landscape. This place is also popular for rock jumping. There are facilities such as restaurants for a snack and a drink. It is nice to drive there yourself with a scooter. The road passes through densely forested hills, rice fields, and sleepy villages.
The location has three waterfalls including Yang Bay, Yang Khang, and Hocho. However, Yang Bay is the main waterfall with two parts: Yang Bay 1 and Yang Bay 2 with a total height of 80m and a length of 2000m. Yang Bay 1 has two small lakes and one large lake.
From afar, tourists can see the white foam water flowing down into a green lake. The grandiose falls are surrounded by dense primeval forests. This wonderful waterfall is a tourist attraction. Although being turned into an eco-tourism area, Yang Bay still keeps its pristine nature.
Tucked away in the place, tourists not only view Yang Bay waterfall but also enjoy a beautiful romantic sight of thick jungles, innumerable tropical insects, colored-multi butterflies, wooden bridges, orchids, cherry blossoms, and a horticultural canopy. There are many small boats to transfer tourists for sightseeing on a 100m wide lake. Coming to Yang Bay waterfall, you should not fail to enjoy the nearby small caves which were used as a shelter for revolutionary soldiers during the war.
According to ethnic people, Yang Bay is also called Thac Troi which means "the waterfall from the sky". Many large stones at the place are flat like chess boards. Therefore, it has been speculated that the emperor and fairies once went down to roam and opened the first spring here.
Lying in mountain ranges, the climate here is cool around the year. Thus, this is a wonderful place for nature lovers to enjoy the fresh air and charming scenery.
11. Love Waterfall, Sapa, Lao Cai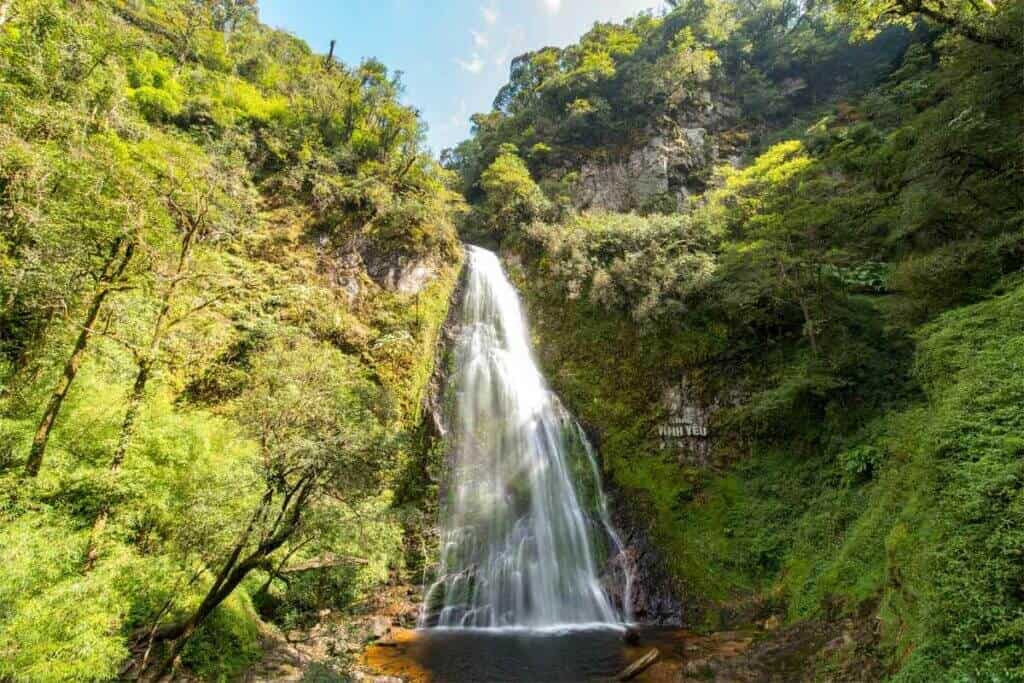 Another must-see in Sapa is Love Waterfall (Thac Tinh Yeu). The name is derived from the sad love story of O Quy Ho, the eldest son of the Mountain God, and Ai Lao – the seventh fairy living in the sky. They fell in love at the first sight but couldn't be together because of the heavenly law. A 20-minute pleasant woodland walk alongside a red-soil route through the bamboo and rhododendron forests and a stream with plenty of steep slopes will bring you to the 100m-high (328 feet) falls that flow in the shade of the scenic and tranquil woods. The waterfall is located in the Hoang Lien National Park, below the Fansipan summit.
12. Giang Dien Waterfall, Dong Nai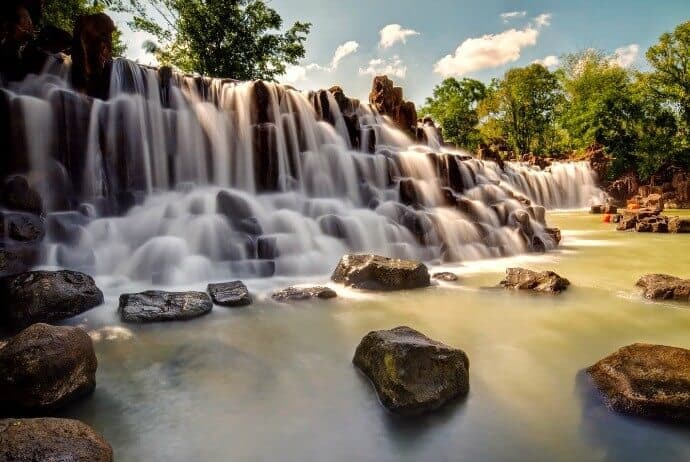 Lying about 50 km away from Ho Chi Minh City (Saigon), Giang Dien waterfall is a place of serenity. Despite it is not too popular among international travelers, it offers a realistic eco-tourism system for tourists to come to explore and relax. Situated in the southern area of Dong Nai (Đồng Nai) city, Giang Dien waterfall has a surrounding area containing hills, a valley, forests, and a lot of flowers blossoming throughout the year, which emanate peacefulness.
Last but not least, Vietnam's waterfalls are a hidden gem that many travelers overlook. However, those who venture off the beaten path are rewarded with some of the most stunning natural wonders in Southeast Asia. The 12 beautiful waterfalls in Vietnam we've highlighted in this article showcase Vietnam's diverse landscapes and offer a glimpse into the country's rich culture and history.
Whether you're a seasoned traveler or planning your first trip to Vietnam, we hope this article has inspired you to explore the country's natural beauty. So pack your bags and get ready to experience the magic of Vietnam's waterfalls. With responsible tourism practices, we can ensure these natural treasures remain preserved for generations to come.
You might be interested in other articles: